Groups are invited to some fantastic events and tours coming up at Borde Hill Garden in 2021, including Music in the Garden, an open air opera and even specialist garden tours and exhibitions.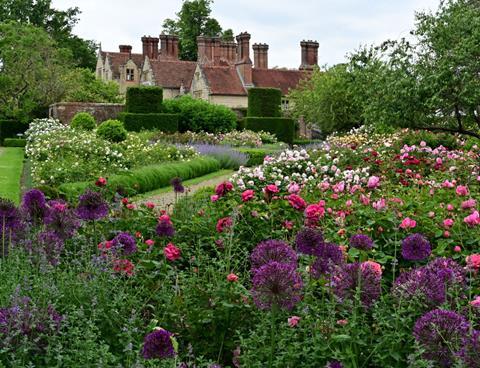 The team at Borde Hill Garden near Haywards Heath in West Sussex have been busy planting thousands of bulbs, including 4,000 Muscari armeniacum 'Peppermint' along Paradise Walk, and masses of Fritillaria imperialis 'Red Rubra' and Allium 'Globemaster' in the newly redesigned Italian Garden - ready to form a great backdrop to the huge programme of events lined up for when the Garden reopens on 13th February 2021.
Group highlights
The season kicks off with a week of guided Camellia Heritage Tours, with the Specialist Plant Fairs making a return on 18th April and 12th September. A Rose Celebration week will run from 14th - 27th June, offering groups the chance to soak up the fragrant beauty of 750 David Austin roses in bloom. On 18th June, the garden will be welcoming Michael Marriot, chief rosarian at David Austin Roses for a talk on how to expertly grow your own.
The team is also keen to promote the mental health benefits of spending time outdoors after a stressful 2020. On 12th May, 16th June and 14th July, groups can pre-book to enjoy the garden's seasonal highlights using touch and smell as well as sight, on a Nature for Wellbeing guided sensory walk.
Further key dates
Form In Nature: a sculpture exhibition running from 7th May to 30th September.
Sussex Guild Contemporary Craft Show: offering a selection of well-designed and beautifully made arts and crafts for sale on 19th and 20th June.
Or for a horticultural treat at any time during the season, groups can join Borde Hill's head gardener or an expert guide for a pre-booked tour to find out about the history and what it takes to maintain the beauty across the site.
There will also be numerous musical events such as Music in the Garden between 1pm and 3pm on 4th and 18th July, Open Air Opera performances on 23rd and 24th July, as well the opportunity to enjoy exclusive access to the garden with live music and cinema under the stars for Music and Movie Nights on 20th and 21st August.
Joint ticket offers also apply with The Bluebell Railway and Sussex Prairie Garden.
2021 group benefits
Discounted group rates.
Pre-booked guided garden tour for up to 25 people.
Bespoke catering including: cream tea, buffet lunch, afternoon tea.
Free admission for coach driver and group organiser.
£5 meal voucher for the coach driver.
Accessible paths for less abled visitors, numerous benches throughout the Garden in scenic locations.
Free wheelchairs on request.
Well stocked gift shop and plant nursery.
Free coach park.