Groups will be amazed when they enter Her Majesty the Queen's private grounds, taking a stroll among beautiful trees, the glorious Rose Garden and even a sneak peak at the private royal tennis court on a Garden Highlights Tour at Buckingham Palace in London.
It's not until you step foot onto the turf at Buckingham Palace, behind the imposing front gates where guards patrol, that you realise how peaceful and charming it is. I felt like a naughty child scampering across the grass to find the optimal angle for a quick snap at the back of the palace, something which usually is not allowed unless it's for a private event.
The grounds currently have a small food cart for refreshments and light meals and there's a garden shop which stocks a range of merchandise to help visitors remember their special day. After a moment to soak in the atmosphere, I had a quick walk around the pathways to find my bearings while admiring some of the colourful flowers in the borders against the backdrop of the beautiful palace.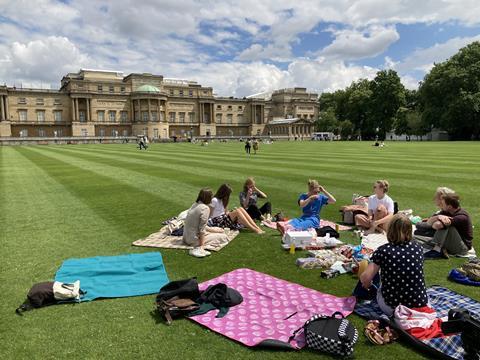 You can choose a garden entry ticket, which doesn't include the Garden Highlights Tour, and still enjoy a fantastic visit, which covers most of the grounds and includes the chance to picnic on the lawns overlooking the palace or the lake. Looking out over the lake, you can even see the small island that Prince Albert would regularly visit to feed birds, although today it is mainly a sanctuary for wildlife and not used by people. The Garden Highlights Tour includes all of this, plus an expert to show off hidden extras not usually available to the public and is definitely the best way to experience everything on offer.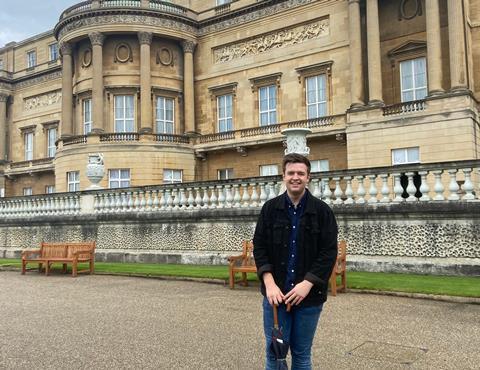 Following a brief introduction from our tour guide Mandy – who explained how lucky we all were to be treading in the footsteps of some of the world's most important people – we took a walk into the palace's Rose Garden. It was a truly unique sight. Vibrant pinks, reds and oranges created a lovely display around the enormous Waterloo Vase made for George IV in Italy – did you know it is about the same height as a double-decker bus? Mandy explained that the vase acts as a nesting place for birds in spring and garden staff often enjoy watching young birds take their first flight from the vase throughout the season.
Speaking with tour guide Mandy Komlosy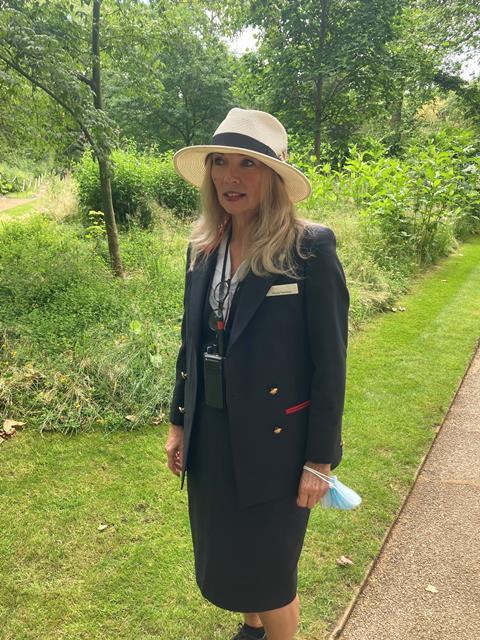 After the tour, I had a quick chat with our guide Mandy for an insight into how special it is to be opening up these parts of the garden to the public for the first time.
It must feel really special taking visitors around the grounds.
"It's just amazing, it's never been done before and we're very excited to show off these spaces. The gardens are in such fantastic condition and they look phenomenal. Because of the rain and sun we have been getting and the conditions of this space are so unusual, you are getting the most extraordinary plants. It is an ecological rarity here, we're even getting bananas growing on our banana tree! You could sit with a gin and tonic and forget where you are, it's just lovely."
How long does it take you to train to take groups on tours?
"I've been here about six years and it takes a decent amount of time to learn all there is to know to pass onto our visitors. On this tour, we won't just get tourists who want to wander around the Queen's garden, we will also have people who know a lot about gardening so I will get a lot of general gardening questions and most I will be able to answer which is good."
And what's the one thing you would say is a must-see or do for people visiting this summer?
"I think the lake is just beautiful because I love thinking back to the past when our winters used to be a lot colder and it would freeze over, allowing Queen Victoria and Prince Albert, their children and the staff to go ice skating. One winter it wasn't quite as firm and Prince Albert actually fell in and it was down to his wife to keep her head and pull him out. It's also just lovely to come here and have a picnic in the Queen's garden and enjoy it. Very few people get to come here unless you're invited and to sit on the lawn and admire the historic building is a wonderful way to spend a summer's afternoon."
It's easy to forget when looking across the grounds on the tour that you're standing in the centre of London. It's only when we walked past the Rose Garden and around the path that we began to hear sirens and traffic again, as well as a glimpse of the Wellington Arch over the tall walls.
The royal tennis court is also a cracking sight to look out for, with different flowers and shrubs allowed to grow around the outside of its fence, offering players an intimate match setting. It was used by King George VI and Fred Perry in the 1930s and more recently by John McEnroe and Björn Borg who, we were told, recaptured their former talent in a tight match that McEnroe edged on the day.
A wisteria-clad summer house and wild flower garden also make up part of the tour, as do a range of trees which date back to the likes of Queen Victoria. It's quite the experience being led around the serpentine pathways, designed by Capability Brown to enhance the gardens. We were reminded that these walkways were the very paths that Her Majesty Queen Elizabeth II and her sister Princess Margaret would have played along growing up and, to me, that felt incredibly special to see this first-hand.
After the tour I couldn't resist a delicious vanilla ice cream from one of the stands within the grounds and tried my best to take everything in and imagine how this most famous of places has changed and adapted over time. Royal enthusiasts will not want to miss out on this extraordinary opportunity to go behind-the-scenes. Garden Highlights Tours are running until 19th September with groups still able to enquire about visiting.