We look at a selection of tourist attractions that groups shouldn't miss on a visit to Frankfurt in Germany, from the culinary to the cultural.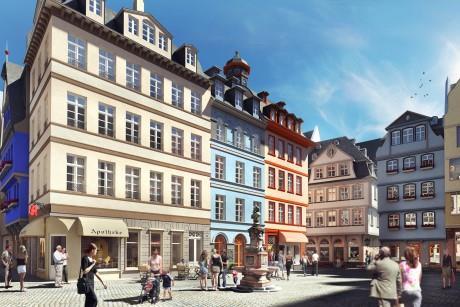 Frankfurt is looking to boost the number of UK groups with a new campaign that invites GTOs to take a closer look at the German city. Frankfurt – Take a Closer Look highlights the city's history, heritage and culture, together with its artisan food and drink, including the traditional Apfelwein restaurants.
Here, Group Leisure & Travel shines a spotlight on some of the top tourist attractions that groups might like to explore on a trip.
1. The Romerberg: Frankfurt's Old Town Centre
When visiting, groups should go to The Romerberg, which is a town square in the old town of Frankfurt. Considered Frankfurt's most scenic square, it is home to a variety of tourist attractions from open-fronted shops to The Romer, a Medieval building which has been used as the city hall for around 600 years.
2. The Palm Garden
For groups of horticulturists, a visit to Frankfurt's Palm Garden is a must. Described as a 'plant paradise' visitors can discover a variety of different exotic plants and blooms as well as grottos and the Tropicarium which features tropical plants. Annually in June, the Rose and Light Festival takes place, including flowers and light illuminations and a musical programme, with roses placed at the centre of celebrations.
3. Senckenberg Naturmuseum Frankfurt
This natural history museum features dinosaur and animal skeletons, with its new human evolution section still in progress. With plenty of exhibits, groups visiting can learn about the Big Bang and the origins of life and our planet. There's also an open-air site called Senckenberganlage which allows visitors to explore the planet's history through plants, rocks and other displays from a variety of geological eras.
Pictured: How the DomRomer is expected to look.
4. DomRömer Quarter
The Frankfurt – Take a Closer Look campaign has been timed to coincide with the opening, later this year, of the city's new DomRömer Quarter, a major project to reconstruct parts of the historic city centre destroyed during World War Two according to the original plan. It will feature reimagined old architecture and visitors will be able to follow certain routes to take them to various attractions and parts of the city.
5. Goethe House and Museum
This house and museum was the former home of one of Frankfurt's greatest writers, Johann Wolfgang Goethe. When visiting you can see the rooms as they were during the writer's life in the 1700s and learn about how he and his family as well as the servants would have lived. The museum is next door and features a 14-room gallery which showcases artworks from the era as well as this Late Baroque and the Romantic periods. For groups wanting to explore Goethe furthers there's also the Goethe Tower which offers views of the city and the Goethestrasse and shopping area.
Looking to explore Germany and Europe further? Read our recent article about some of the most picturesque castles you can visit across the continent, here.