We're sharing some on-screen spots from ITV's new crime drama McDonald and Dodds that groups can discover while visiting the city of Bath.
The first episode of McDonald and Dodds aired at the beginning of March, set against the backdrop of Bath and its memorable sights. Fans of the show can take a self-guided tour of some of its filming locations - here are some suggestions: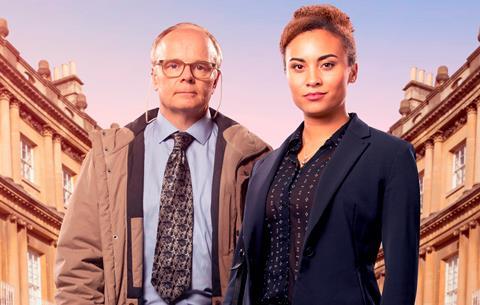 1. Pulteney Bridge
Another icon of Bath's architectural history, Pulteney Bridge is one of only four bridges on the planet that has shops lining all the way along both of its sides. You might also recognise the bridge from the 2012 film version of Les Misérables.
2. Crowe Hall
This Grade II listed building acts as the family home of Max Crockett in the drama show. Dating back to around 1760, Crowe Hall is a private property but its terraced gardens can be visited on select days of the year.
3. Royal Crescent
The 18th-century architectural feat was designed and built by a John Wood the Younger, and can be seen throughout the first episode of McDonald and Dodds. The Royal Crescent is made up of 30 Grade I listed houses and the Royal Crescent Hotel & Spa.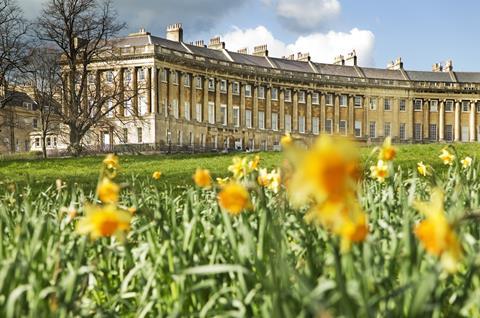 4. Parade Gardens
You can admire views of Pulteney Bridge from the Parade Gardens, a green retreat in the city centre. Groups visiting in the summer can attend bandstand concerts here.
5. Bath Abbey Tower
There's lots of skyline shots of Bath in the first episode of McDonald and Dodds, and plenty of places around the city to see them for yourself, too. Bath Abbey's tower offers 360-degree views, once you've made it up the 212 steps! Groups can book a tower tour to make the climb, with stops to see the ringing chamber and bells.
6. Bath Abbey
And while you're there, step inside the Abbey itself, which has 1,250 years of history to share with visitors. Plus, you can always recreate the McDonald and Dodds scene where the pair stop to theorise in York Street, which has lovely views of the religious building.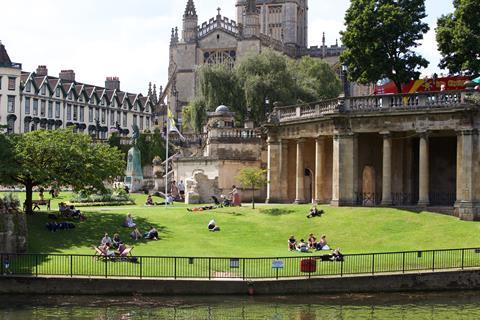 7. Bath Skyline Walk
Visitors that prefer their feet to the ground can admire wonderful views of Bath while trekking along the National Trust Skyline Walk, a six-mile circular route with plenty to see along the way. Walkers can spy Sham Castle, a Grade II listed folly, venture through Bathwick Wood and find Prior Park Landscape Garden.
8. Alexandra Park
Find Alexandra Park a 25-minute walk out of town, a tranquil space away from the busy centre. Its 11 acres are set on a wooded hillside with excellent views over Bath - you can see why it was used to film views of the skyline. Visitors can make their way to the viewing point by climbing Jacob's ladder (a long flight of steps), by taking the slightly less taxing route through Shakespeare Avenue, or by car.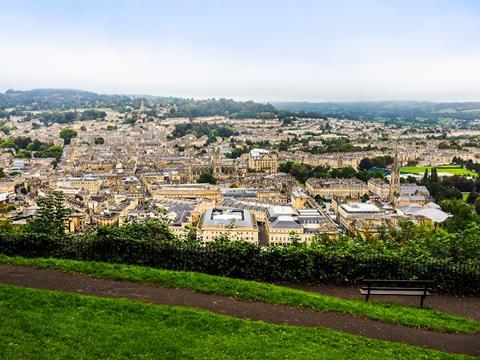 9. The Circus
This one can be spotted at the very beginning of the first episode; an eighteenth-century row of townhouses that features in the show's opening montage. If your group appreciates the architecture of the Royal Crescent, The Circus is its counterpart, made up of three curved segments of Grade I listed buildings.
10. Pickled Greens
Elenora Crockett and Kasha Perry's bakery in the show is actually Pickled Greens, a family-run business on Abbey Street. With a deli, café and wine bar, it could make a great stop-off point for groups throughout the day, whether for a warming soup or freshly-baked treat.
Groups arranging a visit to Bath can find more information at visitbath.co.uk.