With 2022 promising to be a vibrant and busy year for Bath, here are some highlights of new openings, events and exhibitions taking place in the World Heritage City.
Season 2 of Bridgerton
Bath has experienced the 'Bridgerton effect' since the first season aired on Netflix in December 2020. With the second season due to air on 25th March, you can be inspired to plan a trip to Bath and walk in the footsteps of Daphne Bridgerton and The Duke of Hastings, enjoy a Bridgerton-themed afternoon tea or hotel package or book a walking tour to see all of the Bath locations used in series.
World Heritage Centre (opening Easter 2022)
Bath's World Heritage Centre is set to open in the heart of the city, opposite the Roman Baths, and will have free access for all. It will be filled with imaginative interpretation that will show people why Bath is so special and inspire and equip them with the information they need to go out and explore the amazing World Heritage City.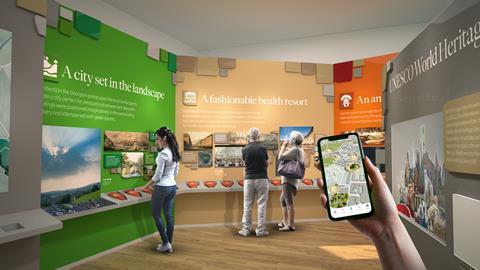 Bath Abbey Discovery Centre (opening autumn 2022)
A new Discovery Centre will tell the story of the Abbey's fascinating history, creating an inspiring space for visitors. The building, which is a working church, will also house a new Song School, home for the Abbey's choirs and where visiting musicians can rehearse and be made welcome.
Cleveland Pools (opening summer 2022)
The Cleveland Pools, Britain's oldest lido dating back over 200 years, is set to open once again. Restoration to make the facility fit for the future has nearly completed, creating a unique open-air public swimming pool, with the energy for heating the water coming from heat pumps in the adjacent river. Find out about the history of the Pools (Bath's hidden eighth Crescent) at the refurbished Georgian Caretakers Cottage.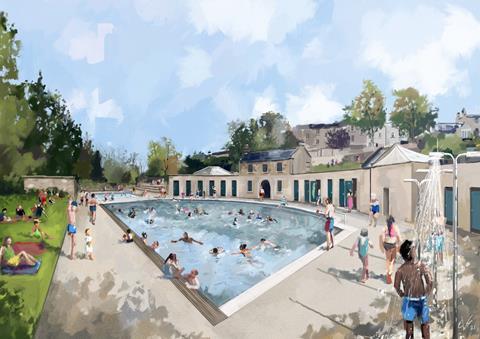 Jane Austen Centre new exhibition space
A new exhibition space has even more costumes for visitors to try on and includes Emma Thompson's letters to the centre, alongside behind-the-scenes pictures from Sense and Sensibility (1995) and a signed copy of her script. Actors are also on hand to help visitors discover Jane Austen's life, show you how to write with a quill and ink and play traditional regency games. A dedicated group organiser at the centre will help plan the ideal schedule for a group visit.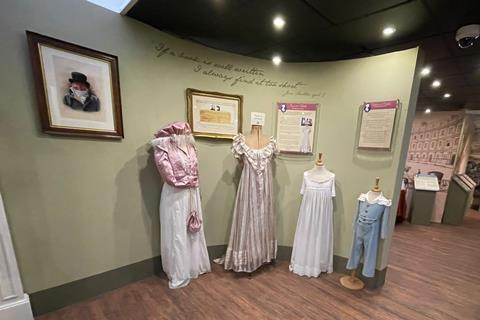 Dress to Redress at The American Museum & Gardens (19th March - 3rd July)
The American Museum & Gardens presents Dress to Redress, an exhibition of the work of contemporary Anishinabe artist Celeste Pedri-Spade. Featuring a series of wearable-art pieces, personal artefacts and photography, alongside historical items from the museum's collection, the exhibition is said to demonstrate the continuing legacy and importance of visual and material culture.
This is the first time Celeste Pedri-Spade's work will be exhibited in Europe and the display will focus on the role of strong women in community, using fashion to explore how stories and experiences of Indigenous and European women both connect and disconnect. Inspired by various designs and materials Pedri-Spade uses her work to remedy the past, revising male-dominated historical narratives, that fail to recognise the powerful role that women have played in their respective communities. Discounted admission is available for groups of 15 or more.
Bath Festival (13th May - 21st May)
Bath Festival is back with a bang in 2022 as it announces big names from the world of music, literature and comedy. Historian David Olusoga, comedian Phil Wang, Nobel Prize winning author Abdulrazak Gurnah and saxophonist Jess Gillam are among those announced as part of the line-up.
Celebrating music and books in a beautiful city, the festival will open with the traditional Party in the City on Friday 13th May, offering dozens of free live music events in city venues for an evening of celebration which attracts tens of thousands of visitors.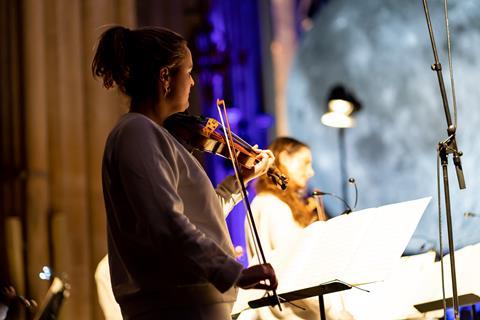 Love Life: David Hockney's Drawings at The Holburne Museum (27th May - 18th September 2022)
Hockney's delight in the world is no better demonstrated than in the drawings he made in the late 1960s and 1970s – the subject of this show – in which we see his extraordinary power of observation and skill in using tiny, mundane details to help capture a situation or the character of a sitter or a place.
Hockney's drawings of this time are said to be some of the greatest bodies of draftsmanship in the whole of western art. In pencil, coloured crayon, pen and ink, he reveals his delight in the world around him and then condenses a given scene in the most concise way. As Love Life demonstrates, a few lines can perfectly describe the fall of someone's clothing, the impression of a head on a pillow, or the character of a situation.
Hampton by Hilton (opening March 2022)
A new 202-room Hampton By Hilton in the city centre opens in March close to the train station, Roman Baths and Thermae Bath Spa. The hotel will have a gym, meeting space and a relaxed open-plan contemporary lounge area with large screen televisions. Breakfast will be served buffet style and the hotel will feature 11 accessible rooms.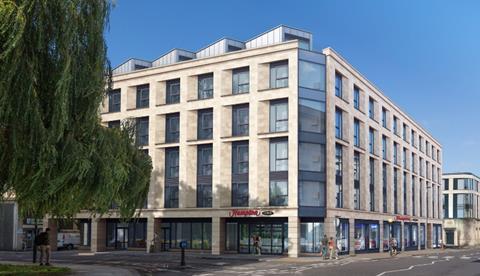 From Hogarth to Hodgkin: Our Best Prints at Victoria Art Gallery (5th March - 5th May 2022)
This exhibition is set to showcase the best of the gallery's print collection and you'll be able to see the diversity of their prints with works on display spanning 700 years. Before industrial techniques came along in the 19th century, artists could only make prints in limited quantities. In today's image-saturated world, it is hard to appreciate how precious prints would have seemed in the past.
Created by dozens of artists and with a range of subjects, including landscape, satire, portraiture and views of Georgian Bath, there will be something to please all art lovers. From Hogarth to Hodgkin and prints by old masters, such as Cranach and Durer, up to the present day with works by Grayson Perry, Cornelia Parker and Paula Rego.
For more information about events and activities for groups in Bath, go to www.visitbath.co.uk.