Dance troupe and Britain's Got Talent winners Diversity, plus their fellow panto costars Gina Murray and Jack Land Noble, are excited to be returning to panto-land in Jack and the Beanstalk at Milton Keynes Theatre.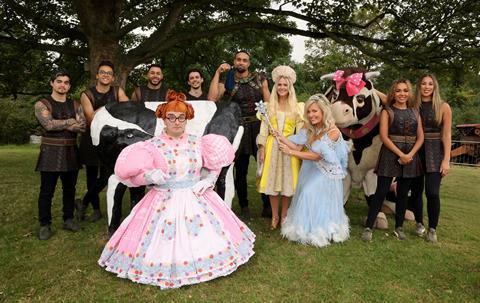 Roundabouts and concrete cows. That's supposedly what puts Milton Keynes on the map, so it was fitting to see the cast dressed up in their extravagant costumes, posing for a photo next to the famous black and white spotted herd. It's not something you see every day and as I arrived at Milton Keynes Museum for this panto press launch it certainly caught my attention.
"That was really surreal," jokes Gina Murray after swapping her sparkling blue dress for a more comfortable outfit. "I thought that lockdown was strange but there I was standing in a field with fake cows!"
Starring Ashley Banjo as Jack, along with the rest of the Diversity troupe as his siblings, Gina Murray as Mother Nature and Jack Land Noble as The Dame, Jack and the Beanstalk will be running at Milton Keynes Theatre from Saturday 11th December until Saturday 8th January 2022.
The last year has been incredibly tough for performers who have seen their world come crashing to a halt while audiences were banned from entering theatres throughout the height of the pandemic. According to the cast, it's been a real breath of fresh air to be preparing for a pantomime once again.
"The whole pandemic flipped everything on its head," says Warren Russell, Diversity dancer and one of Jack's siblings in the show. "In a normal year, we would be performing every other week, so to go from that to nothing was really hard.
"We've only performed as a whole group a couple of times this year, so for us to be away with each other again and getting the chance to perform every day is great. I love my job, I love everyone in the cast and I'm looking forward to it so much."
"The pantomime is going to have that witty, family-friendly banter with a few tricks and routines from us thrown in there."

Mitchell Craske, Diversity dancer
Nodding along, fellow Diversity dancer Sam Craske jumps in: "It's brilliant to be back at Milton Keynes Theatre as well. We performed here on our last Diversity tour, it's a lovely venue."
Jack Land Noble, who looks slighly less glammed up from when I saw him dressed as The Dame, also shares the same enthusiasm to be back doing what he does best. He says: "Just to be back in this time and space with everyone is such a welcome relief and to be performing in such a beautiful theatre for the season is a real sweet note after all this madness we've been going through."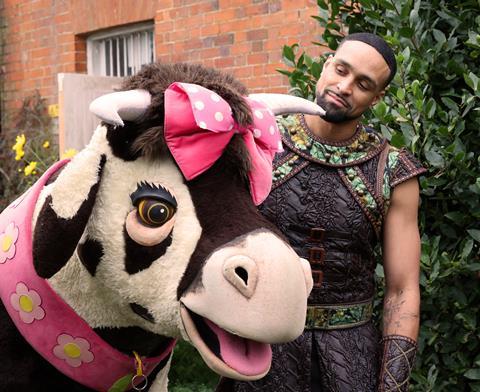 What to expect
"Described as a 'giant pantomime extravangaza', I was eager to grasp what audiences can look forward to. "I'm playing the role of Mother nature," says Gina Murray. "Essentially she is the fairy and will be explaining what is going. I will need everyone's help so audience participation is more than welcome and I think Jack will also need some help on his quest. So, perhaps some magic will be required. Either way, it's going to be exciting and fun. I don't think you'll get much more than we're offering anywhere."
"Essentially the part of The Dame is a man in a frock and for want of a better term, there is nothing effeminate about it," laughs Jack Land Noble. "I will be bringing a very traditional and old school approach to the part but at the same time, you've got to be warm and loveable so the mums, dads and children in the audience really take to you from the start."
Warren Russell continues: "We bring the dance routines and a different edge to a traditional pantomime. Audiences can expect us to do what we're known for, but with a bit of humour behind it. It's going to be great."
Mitchell Craske, real-life brother to Sam and member of Diversity, adds: "It's definitely going to have that witty, family-friendly banter with a few tricks and routines from us thrown in there."
Friendship
Before Diversity found overnight fame on Britain's Got Talent, they were just a group of friends on a journey. Just like a group organiser and their members, the dance troupe travels across the world and experience new things together which is something they wouldn't change for the world.
Mitchell Craske, says: "We love touring around the UK together and even if you take away dancing, we'd still be going travelling and we'd still be meeting up every day. To be able to do this as a job and as a group of friends is just absolutely incredible."
Warren agrees: "We were all friends before dancing and that's what is great about us, we have that gel and bond which is all real. We see each other outside of work as much as we do inside of work. We're literally in each others pockets which is amazing. We've been on holidays and all sorts, we literally do everything together."
"It doesn't feel like work half the time, we all get on so well," adds Sam.
Groups of ten or more can submit a booking request for Jack and the Beanstalk by calling 020 7206 1174 or filling out an online form here. More information about the show is available by clicking here.

With a love of journalism and travel, Harry enjoys writing about his experiences for GLT readers to use as inspiration. Brighton, Dublin and Amsterdam are among his favourite cities to visit and he enjoys delving into historical sites too – especially those linked to the Tudors and World War Two.