Look out for some of these fantastic cruise ship features that will blow your mind.
Cruise ship technology is ever-changing and we are lucky to live in a time when some of the wildest and most unique features can be seen on vessels.
Here are just some of the features we have our eye on…
Carnival Cruise Line's ship Mardi Gras which was recently announced and is expected to birth in 2020 is set to feature the 'ultimate playground'. This feature is suitable for both little kids and big ones and will include what's said to be the first rollercoaster at sea, titled BOLT. The coaster is described as an 'all-electric thrill ride'.
Besides this the playground will feature a large WaterWorks with spiral slides, as well as SportSquare, featuring a mini golf course, basketball course and ropes course.
Royal Caribbean, meanwhile, has revealed The Blaster Riptide, thought to be the world's longest waterslide at sea, which is onboard Navigator of the Seas. This 800-foot aqua-coaster will make up part of the $115 million makeover that the ship is expecting.
Also part of the innovation will be a visit to Royal Caribbean's new private island in The Bahamas which feature the tallest waterslide in North America and the Caribbean's largest freshwater pool.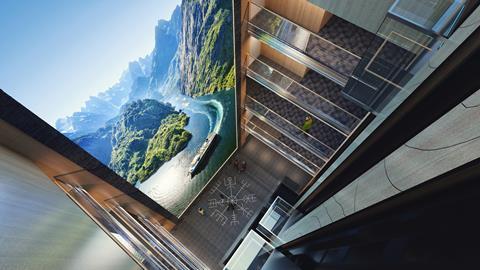 Hurtigruten will be introducing what's described as the tallest screen at sea onboard Ms Roald Amundsen, a hybrid-powered expedition cruise ship. The LED screen will span seven decks, and 17.5 metres. The screen will feature live coverage of the outside of the ship, panoramic views from the mast, and live lectures and presentations from onboard venues.
Launching in 2019, 2020 and 2021, MS Roald Amundsen, MS Fridtjof Nansen and their yet to be named sister, will explore some of the most unique areas on the planet.
MSC Cruises has unveiled its digital personal assistant, called ZOE which will be located in every stateroom onboard the new MSC Bellissima. The new technological device is described as a 'voice-enabled artificial intelligence (AI)' who can speak seven languages, answer questions about the cruise and provide information for guests about services and bookings.
Norwegian Cruise Line features many wacky experiences from one of the largest rope courses at sea, to a zip wire, to a 'walking the plank' experience. During which you'll walk eight metres above the water and experience the thrill (don't worry though you'll be strapped up securely) – will you be brave enough to look down? The cruise line also offers a climbing wall, bowling alley, sports deck and mini golf course. These features can be found on a variety of Norwegian's cruise ships.