We spoke to Charlie Stemp, who plays the theatre-mad Bobby Child in Crazy For You, to find out more about his role, what groups can expect from the show and his career highlights.
It's not often I interview someone whose first response after a question is: "I'm sorry, but I'm furious". I held my breath to find out if I had caused offence in some way to the Olivier Award nominated actor. He stood up quickly from his living room sofa and walked straight to the back door, taking me with him on his phone screen over an internet call.
"I've got a bird feeder out here," he said. "And I've done everything in my power to keep the squirrels off, but there's three of them on it now!" Panic over as we talked about the challenge of keeping pests away from the garden, but the 29-year-old told me that his garden keeps him grounded amid his busy lifestyle as a performer.
He said: "If it's a show day, I will get up later than I normally would because you need your sleep. Everything on that day is focused either towards the show or about maintaining energy levels because performing in Crazy For You is like running a marathon - it's non-stop.
"I'll burn at least three to four thousand calories a day, so most of my day is trying to find some food! It's nice though, because as I've progressed in my theatre career, I've figured out how to still do things that I love and enjoy without using too much energy like my garden.
"I love gardening, it gives me a sense of escapism. I've just bought a water butt and I'm going start planting some stuff soon. Last year I grew some green beans, carrots, potatoes and tomatoes, so this year I'm going to try something different."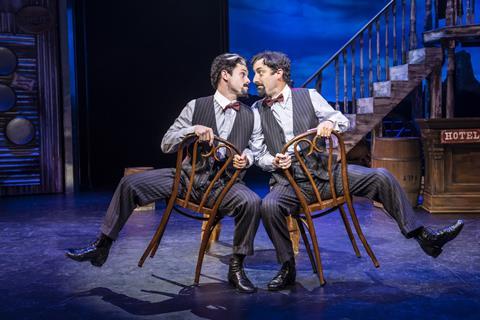 Following a sold-out run at Chichester Festival Theatre during the summer of 2022, Susan Stoman's hit is to embark on a six-month season at London's Gillian Lynne Theatre from 24th June, 2023, until 4th January, 2024.
The story follows the life of theatre-mad Bobby Child who is torn between his show-business dreams and running the family bank. Child reluctantly heads west to Deadrock, Nevada, to foreclose on a theatre's mortgage, only to fall for the theatre owner's daughter, Polly.
Love theatre? Want to be the first to know?
Get our free 'Theatre Spotlight' email newsletter to receive theatre news, cast information, reviews, interviews and what's best for groups, sent to your inbox.
Find out how

Desperate to prove his good faith, Bobby decides to put on a show – complete with dancers from the glamorous Zangler Follies in New York City – to save the theatre, renew the town and hopefully win Polly's love. Stemp is thrilled to be bringing the production back to England's capital.
"I absolutely love the West End and I love London as it's where I'm from," he said. "So to have the honour of bringing the show back and to be the person that's at the helm of the performance is a real honour. I feel so proud that I get to show my friends this show and I get to be a part of it. The cast are so kind and wonderful."
"I want audiences to go away with a smile on their face as that should never be underestimated, and I want them to leave with an understanding of what the theatre does for a community."
"Bobby grows as the story progresses and he starts to realise his calling more. When we were doing the direction with our fearless leader Susan Stoman, she was so driven and wanted to show this progression.
"I think that's important with any character, but with Bobby, it's exhausting as he doesn't really leave the stage. It's funny though because you don't get tired as it's so non-stop. You just get so much adrenaline running through your body so you don't really feel it until afterwards."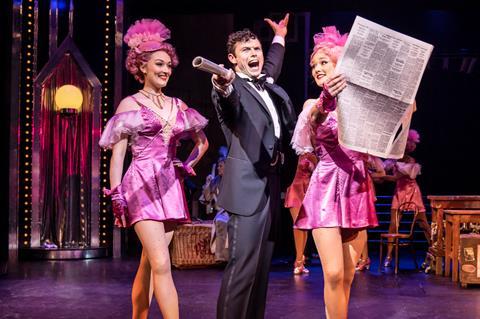 Career highlights
Stemp's theatre credits include Wicked, Half a Sixpence and Mary Poppins in the West End, as well as a stint on Broadway in Hello, Dolly!. each experience giving him something to be proud of and learn from.
He said: "I don't have a favourite role or show, I just have lots of fantastic memories. In Mamma Mia! I travelled the world on the international tour; Wicked was my first job where I learned so much and I loved it for that and Half a Sixpence created my career where I found some of my best friends. That show really taught me how to be a leading man which is a very difficult skill.
"In Hello Darling! on Broadway, I got to work with people like Bernadette Peters, Bette Midler, Kate Baldwin and many more which was amazing. Then with Mary Poppins, I grew up watching the film and Dick Van Dyke as Bert, so that was special. I'm passionate about them all for different reasons."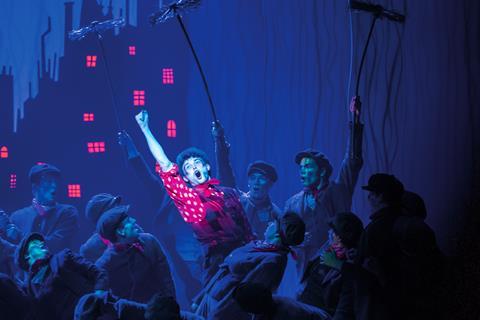 Of course, things go wrong on stage, and Stemp wasn't shy in sharing one of the most outrageous moments of his career so far.
He added: "I had a motorbike with a side car in Half a Sixpence, and in one part of the show, I had to drive it around stage. Once, I remember driving the bike in the circle, but I hit one of the chair legs on the stage, and it went straight into the spokes of the bike so I couldn't move.
"I panicked so I snapped the leg by revving the side car even harder, but then the leg got like caught in the set so it was a complete disaster! It was made even worse by the whole cast who were supposed to be singing, but no one was singing because they were all just laughing at me. It was all over the place but we got through it."
Groups of 10 or more qualify for discounted tickets to see Crazy For You. More information is available at crazyforyoumusical.com.

With a love of journalism and travel, Harry enjoys writing about his experiences for GLT readers to use as inspiration. Brighton, Dublin and Amsterdam are among his favourite cities to visit and he enjoys delving into historical sites too – especially those linked to the Tudors and World War Two.