Go in search of bears, birds and big game on the cruise of a lifetime. Jane Archer picks 10 of the best voyages for animal magic.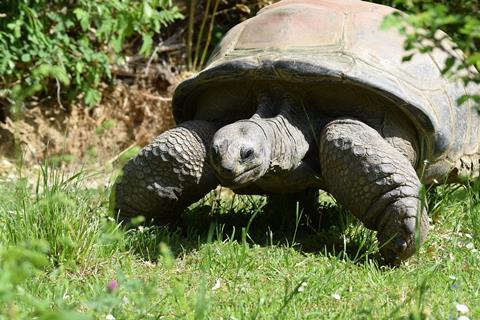 1. Watch the birdies

Noble Caledonia is going in search of puffins, guillemots, kittiwakes, grebes, herons and terns on a voyage along the UK's west coast that will be calling at islands surrounded by cliffs teeming with seabirds. You'll visit Lundy, Skomer and Holy Island in Wales, tour the Inch Wild Fowl Reserve in Derry, Northern Ireland, and join guided walks and Zodiac cruises around lonely St Kilda, Handa and Shiant islands.

The detail: Noble Caledonia's 10-night Bird Islands cruise from Plymouth to Oban departs May 1, 2019.

2. Safari so good

CroisiEurope loved the wildlife along the rivers in Southern Africa so much it built its own boat to sail there. African Dream holds just 16 passengers and sails three-night voyages around Lake Karibe in search of elephants, hippos, crocodiles, buffalo, maybe even lions, not to mention thousands of birds including sea eagles, storks and herons. Cruises are paired with three nights in CroisiEurope's own game lodge, from where jeep safaris explore Chobe National Park, as well as hotel stays in Johannesburg and Victoria Falls.

The detail: CroisiEurope's nine-day Southern Africa cruise-and-stay holidays depart between March and December 2019.

3. Galapagos made easy

A cruise is by far the best way to see all the wildlife. Sail on Silversea's Silver Galapagos and each day you'll anchor off two different islands, bays and inlets and go ashore on guided walks to see blue-footed boobies, marine iguanas, sea lions, giant tortoises and numerous other animals that have no fear of humans. There are also snorkelling trips most days and occasional Zodiac cruises around rocky bays.

The detail: Silversea's seven-day Galapagos cruises between the islands of Baltra and San Cristobal depart weekly year-round.

4. In search of polar bears

Keep those binoculars handy as you'll also need them to spot polar bears on Hurtigruten's voyages around Spitsbergen on the expedition ship Fram.
Pictured: Spot polar bears with Hurtigruten.
The island is way up in the Arctic Circle, the closest most ships can get to the North Pole, and full of the cuddly-looking white critters. Except sadly they are not cuddly at all so viewing has to be from afar. An expedition team will be on hand to help spot the bears as well as walruses, seals, seabirds and, fingers-crossed, whales.
The detail: Hurtigruten's 10-day In the Realm of the Polar Bear cruise round-trip from Longyearbyen departs June 3, 11 and 19, 2019.

5. Paradise islands
Hop on one of Variety Cruises' voyages around the Seychelles and you soon discover there is more to this Indian Ocean paradise than Royal honeymoons and lazy days in the sun. The cruise visits Curieuse, which is home to some 250 fearless giant tortoises, and includes guided walks around Cousin and Aride, where you'll be dazzled by hundreds of exotic bird beauties such as White Fairy Terns and Seychelles Magpie Robins. Wear a hat and don't look up! Feeling lucky? Look out for the rare Black Parrot on a tour in Vallee de Mai.

The detail: Variety Cruises' seven-night Garden of Eden cruises depart year-round from Victoria in Mahé.

6. Walk on the wild side
Nature walks and boat trips through the jungle in search of sloths, iguanas, monkeys, anteaters, macaws, parrots and a host of other wildlife await on Voyages Jules Verne's cruises on the Peruvian Amazon and its tributaries. The Amazon Star, a small boat that holds just 31 passengers, also visits local schools and markets, allows time to swim in the Pucate River and includes on-board lectures about the river and its wildlife.
Pictured: Voyages Jules Verne's cruises on the Amazon offer a great opportunity for wildlife spotting.
The detail: Voyages Jules Verne's 10-night Amazing Amazonia holiday packages seven nights on the river with pre and post-cruise stays in Lima. Departures between April and October 2019.

7. Short and sweet

What better way to spend a long weekend than seeking out seabirds in the Isles of Scilly with Cruise and Maritime Voyages? Some 28 miles off the coast of Cornwall, the UK's most westerly archipelago is home to huge colonies of puffins, razor bills, guillemots and seals, and you'll likely see them all on an RIB (rigid inflatable boat) tour from St Mary's. Tours also visit to the sub-tropical gardens on Tresco, home to an abundance of bird life and thousands of exotic plants from around the world.

The detail: Cruise & Maritime Voyages' three-night Dublin and Isles of Scilly cruise from Liverpool to Bristol departs August 29, 2019.

8. Where the big cats roam
If only the Big Five will do, check out Fred Olsen's wildlife-spotting cruise around Africa next year. There's whale-watching in Cape Town, safaris in search of lions, elephants, rhino and leopards from Port Elizabeth, and a day in Richard's Bay, gateway to Hluhluwe Game Reserve and wetlands teeming with hippos, crocodiles and hundreds of bird species. In Madagascar, look out for lemurs, chameleons and even boa constrictors on tours to Lakobe National Park.

The detail: Fred Olsen Cruise Line's 14-night African Wildlife and Landscapes cruise from Cape Town to Victoria in Seychelles departs October 31 2019.

9. Whale of a time

Pack your binoculars and plenty of patience because we're off whale and dolphin spotting on Saga Cruises' new ship Spirit of Discovery.
Pictured: Whale watching with Saga.
The voyage, across the Bay of Biscay and around the Canary Islands is through waters teeming with cetaceans including striped dolphins, beaked and pilot whales and even massive fin whales. Experts from ORCA, the whale and dolphin conservation charity, will help to keep a lookout.

The detail: Saga's 14-night Spanish Islands of the Atlantic cruise sails from Southampton on November 4, 2019.

10. Tigers calling
Feeling lucky? You'll need to be to spy one of the handful of Bengal tigers that roam Kaziranga National Park on a cruise along the Brahmaputra River in India with Far Horizon Tours. But don't worry. You'll tick off plenty of other wildlife, including water buffalo, rhinos, turtles, kingfishers, buffalo, deer and Ganges dolphins during boat, jeep and elephant-back safaris in and around the park. Aim to go in March and April, when the animals stay closer to the river.

The detail: Fred River Cruises' nine-night Brahmaputra cruise-and-stay holidays combine a week on the river with two nights in Kolkata. Departures between September 2019 and April 2020.
Main image: Look out for giant tortoises on one of Variety Cruises' voyages around the Seychelles.Pi