Harry Rogers sat down with Frozen the Musical star Craig Gallivan to talk about returning to the stage since the pandemic, his role as Olaf the snowman and how groups can get back to the theatre in a safe environment.
Firstly, it must be fantastic to be back on stage after months of uncertainty?
I've got to be honest, it took a while to get the engines running after a year of sitting on the sofa, I think a few of us were a bit creaky! But we had a really long rehearsal process so we were quite lucky in that respect. The first few days were such a joy and a relief that it was finally happening. It gave everybody a whole new perspective on our jobs and our lives and on theatre as a whole, and you can feel that within the audience as well, there's a new buzz as people seem to have realised that we can't take it for granted.
What can those who haven't seen the show expect?
One of the great things about it, and I have been told this by numerous people who have come up to me afterwards, is that it's way more than you think you're going to get. Everyone knows the film, even if you haven't seen it you know about it and the songs are out there so everyone comes thinking they know what's coming, but they don't.
There are 12 more songs in the musical which are all written by the original composers of the movie. Not only that but when you watch an animated film, you can pull off anything. Obviously a genius animator makes that happen but how do you do it live? How do you freeze the stage? It's this that really blows people away as the special effects used are just astonishingly good.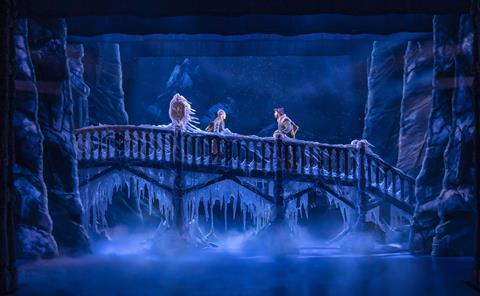 That must have been a really wonderful feeling seeing the set for the first time?
We spent the first four weeks of rehearsals in the studio but the big shift in any show is when you move into the theatre for the first time and obviously Theatre Royal Drury Lane is iconic. We see artwork and drawings in the rehearsal room which show what it's all going to look like but when you set foot on the stage for the first time, it's super special.
"Our first show back after the pandemic felt really special and something I don't think I'll ever forget."
You play the part of Olaf, who is the loveable snowman in the story. Did you feel like you had big shoes to fill?
Yes, huge shoes to fill. He is a much-loved character and I really wanted to give audiences the Olaf they know and love. I didn't want to try and reinvent it, I just wanted to give the audience what they were after and I worked really hard to capture that. It was secret at first but most people know now that Olaf is a puppet, and I had to work really hard to learn puppetry. This was something I had never done before so I had an extra two weeks compared to the rest of the cast in rehearsals just learning how to make Olaf come to life. It's been a massive challenge.
So how do you make him so lifelike on stage?
I have a harness which I wear underneath my costume and there's a rod which comes between my legs which Olaf is clipped to, taking all the weight of the costume. His feet are strapped to my feet and inside his head, I have triggers to make him blink and raise his eyebrows. In my other hand, I have control of his arms so I can gesture and I have another trigger there which brings his arms in and out. It was a bit like driving a car for the first time but once you do it over and over again, it becomes second nature.
"There is nothing like going to the theatre, it's one of the only places that you can be taken away with your imagination."
Have you got any reassurance for some of our readers who are still feeling nervous about going back to the theatre?
I can totally understand why some people are a little more reluctant to get back to the theatre, especially in a full venue it can feel a little bit daunting. We're very lucky that the Theatre Royal Drury Lane has just been refurbished so it has state of the art technology which purifies the air through super filters, audiences are encouraged to wear masks and you have to show your vaccine status on the way in. You won't find a better venue in London in terms of that and I know that if people are brave and come along, they'll have a great time.
Group rates for Frozen the Musical are available for nine or more people, with further discounts for groups of 20 or more people. Group bookings are valid on Wednesday and Thursday 7pm performances and Thursday 2pm matinees. The show is currently taking bookings up until June 2022 and more information can be found at frozenthemusical.co.uk/groups.

With a love of journalism and travel, Harry enjoys writing about his experiences for GLT readers to use as inspiration. Brighton, Dublin and Amsterdam are among his favourite cities to visit and he enjoys delving into historical sites too – especially those linked to the Tudors and World War Two.