With a suitable ski area, travel and accommodation to consider, arranging your group's ski holiday can seem like an uphill battle. We share some handy tips to help everyone book a successful ski trip.
Getting started
Before you do anything else, establish a realistic budget. Mountain holidays are wonderful but they don't come cheap – for an off-peak, week-long package, you're usually looking at £800 upwards per person for bed, board, flights and transfers. Don't forget that ski passes and equipment hire can add around £300 a head on top of that, and group ski lessons an extra £150+.
Get an idea of the standard of accommodation group members are expecting. Are they happy to compromise luxuries to keep costs down (such as being further from the lifts or more basic accommodation), or do they want to pay a bit more for convenience and comfort?
The dates you want to travel will affect cost too – if there are children coming along, you won't be able to ski during term time. School holiday weeks can hike the price up by £500 or more, while early December, January and March are cheaper.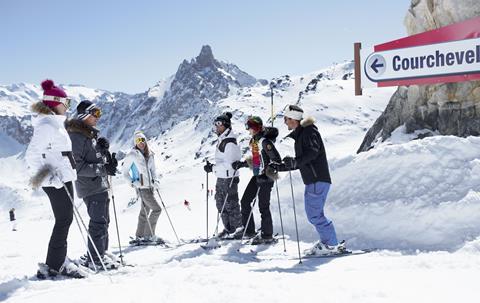 It's not all climbing costs though, groups get the best discounts in the skiing business, from lift pass and equipment hire discounts to a free half or full place per certain number booked, or free places for the group organiser!
Our pick of some ski offers for groups:
1. Eurotunnel Le Shuttle offers booking assistance and often reduced rates for groups of 15 or more cars.
2. For package holidays, SNO have numerous holiday offers and discounts for groups of 7 or more, plus a ski club discount.
3. The ski hire shop Skiset do a 10 per cent discount on equipment hire for groups of 10+.
4. The 3 Valleys Tribu Pass offers ski pass discounts for groups of 3.
5. Portes du Soleil ski pass also gives discounts to groups of 3+.
Choosing your ski resort
If everyone in the group is a beginner, you can get away with choosing one of the smaller ski areas which will lessen costs, such as Wildschönau (Austria), Saas-Fee (Switzerland) and Bardonnechia (Italy).
For groups with more experienced skiers or a mix of different levels, a large, linked ski area is best. France's Trois Vallees is the world's biggest, and others include Portes du Soleil (France), Ski Arlberg (Austria) and Dolomiti Superski (Italy).
Chalet or hotel?
Do you have a definitive number of people in your group? If so, chalets work perfectly. Ski holiday companies have properties of every size and style, so whether you have a group of 6, 16 or 66, you can find one to match and book the whole place out.
If you're less certain about a final number, go for one of the larger chalet hotels or regular hotels. Then you can confirm rooms for whoever is ready to sign up, knowing there'll likely be space available for people who join up in due course.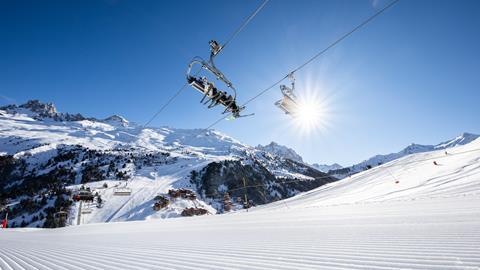 When to book
Get your group booked up as soon as possible, bearing in mind you'll want to secure your chosen accommodation while there are still rooms available. Getting everyone's payments takes time, so set early deadlines for deposits and instalments, or gather the full cost in advance and put any left-over cash towards a meal on the mountains.
The easiest thing to do is go through an agent/operator who will offer specialist ski advice and do the payment chasing on your behalf. They can also handle extras like lift passes, equipment hire and lessons to save you juggling everything separately.