GTO of the Year® 2019 and organiser of the Exmoor Extroverts, Sue Shapland navigated the legal red tape to take her group on a Croatian Island cruise in September. She reports back.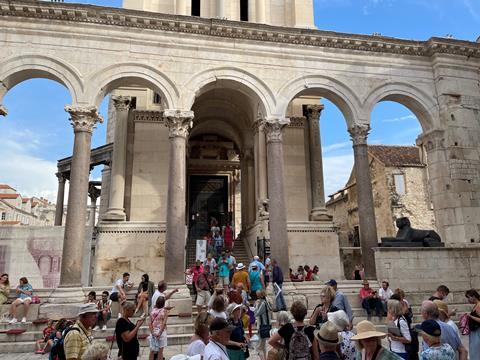 Originally planned for September 2020 and postponed until May 2021. Finally, in September, 22 of us got there! The testing and form filling were indeed daunting – lateral flow tests 48 hours before we flew and again before we returned, followed by a PCR test on day two.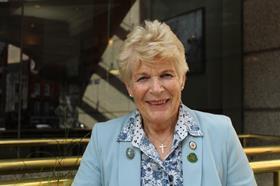 Arranged for us by Simply Groups, we were blessed with beautiful weather for the week and had the luxury of a new ship, on her third voyage, and four brothers (all qualified captains) together with their father to look after us.
Our cruise director, Ana, proved to be outstanding and arranged for us to be in the right place at just the right time so we didn't have any waiting around.
We flew out to Dubrovnik for our first night onboard. In the morning we were fortunate to visit this fascinating walled city without the usual crowds, after which we had free time to do as we pleased. From here we sailed north west to Mljet where we enjoyed the first of several delightful local seafood restaurants.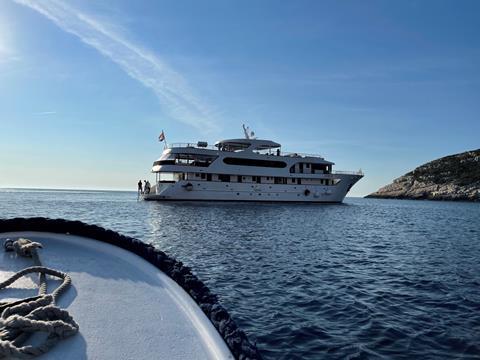 The next day we walked to the local National Park, took a boat ride to the Islet of St Mary with its 12th century Benedictine Monastery, then enjoyed the delights of swimming in the rare salt-water lake. Our next visit was to Korčula Town – the birthplace of Marco Polo – where, after an excellent guided tour, came the delights of another seafood restaurant.
Our next destination was the Island of Vis. We anchored on the way there so we could swim in those clear turquoise waters. It operated as a military base for centuries due to its strategic position, therefore escaping much development, and we would have been happy to prolong our visit to this delightful island.
Our next destination was the island of Biševo and a visit to its Blue Cave, lit only by natural light which streamed in through a second entrance. Watching the shoals of little fish playing in the sunlight was a moving experience and a beautiful swimming stop on the way to the busy port of Hvar. Here we enjoyed an excellent guided tour of this buzzing city with its vast choice of top class restaurants.
We waved farewell as we set off for the island of Bol and its Golden Cape Beach where many of us took the opportunity for another swim. Then it was time to head to the island of Brač and the impressive town of Pučišća, famous for its local stone, where we visited one of only two of Europe's Colleges for Stonemasons. Many of the world's most famous buildings, including The White House, were constructed with Pučišća stone.
We ended our tour in Split, another incredible walled city with its UNESCO palace, where our excellent guide pointed out some of the 3,500-year-old statues. The holiday was rounded off with a delightful farewell group dinner in one of the beautiful squares.
We all wanted the experience to continue for a little longer as we had had so much fun and despite the red tape, the consensus of the group was that the special holiday was definitely well worth all the extra effort.