A relaxing journey along some of England's top waterways is a way to enjoy the outdoors and take in some impressive views. Here are six to inspire you.
1. Windermere Lake Cruises
Uncover one of England's most beautiful lakes in Cumbria, with the help of Windemere Lake Cruises (pictured top). Whether it be a Half Lake Cruise for those pressed for time, or a Full Lake Cruise which explores the full ten and a half miles of the lake, showcasing the Lake District mountains and historic houses, there is sure to be something to interest all members on a voyage.
Plus, its newest vessel MV Swift was launched last October. Suggested itineraries can include catering options, along with combined trips to some of the Lake District's other top attractions, such as Windermere Jetty Museum, where staff work to restore historic vessels for visitors to enjoy.
2. City Cruises
The best thing about City Cruises is that it operates boat trips in London, Poole and York, meaning that groups visiting those areas can schedule a short boat trip into their itinerary. In York, passengers can enjoy an informative sightseeing voyage on the River Ouse.
In London, what is more iconic than sailing along the Thames next to some of the city's most important landmarks including Westminster and Tower Bridge? Or organisers in Poole can opt for a Jurassic circular cruise which uncovers 185 million years' worth of history. If you want a more exclusive experience, the team also offers private hire journeys.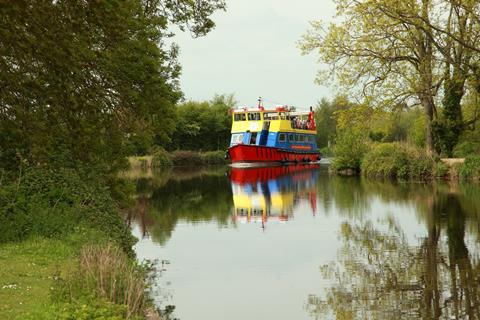 3. Stuart Line Cruises
Stuart Line Cruises specialises in taking groups on sailings round Exeter, Exmouth, Torquay and Sidmouth in Devon, offering the chance to admire the scenery such as the spectacular Jurassic Coast or the opportunity to amble peacefully along the River Exe.
The team can suggest itineraries for GTOs and offer special discounted rates for groups of 15 or more. For something extra special, you can opt for the company's guided bird watching cruise. It is suitable for beginners and beneficial to experts and allows passengers to see thousands of species that migrate to the area during the autumn and winter months.
4. Broads Tours
If you're looking to journey along the beautiful Norfolk Broads, not many offer an all-round group experience like Broads Tours, with all trips containing live commentary to give an insight into the surroundings on the journey.
Light refreshments are usually served on board as you sail along The Broads, taking in some of the county's finest views. The team are able to organise special exclusive trips for groups between November and March and if you're looking to get all festive, there is even a special mulled wine and mince pies option near Christmas.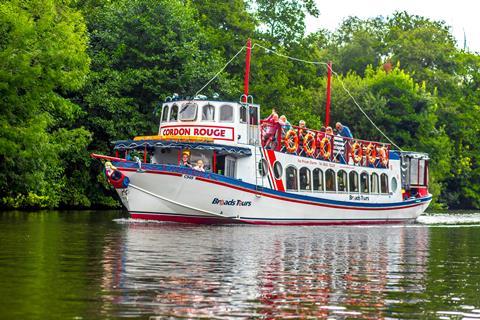 5. Ullswater 'Steamers'
With several group tour options available, Ullswater 'Steamers' provides cruisers with itineraries and journeys across Ullswater – the second largest lake in the Lake District. This year has also seen the introduction of a VIP cruise, where passengers will enjoy a one-hour circular sailing from Glenridding at the southern end of Ullswater, complete with a live commentary about the Lake District's highest mountains and through the sweeping landscape of the UNESCO World Heritage Site.
The 71-year-old Lady Wakefield is dedicated completely to groups and will set sail at 11am and 2pm every day, plus tickets include complimentary tea or coffee on arrival.
6. Chester Boats
Jump aboard one of Chester Boats' voyages to experience some of north's tranquil settings along the River Dee. Those with a good eye can look out for cormorants and kingfishers, among the other wildlife burrowed away on the banks as you pass beautiful natural settings.
The two-hour Iron Bridge Cruise is a top pick, beginning at The Groves in Chester before heading southwards past riverside homes into the countryside. An informative sightseeing commentary will share interesting facts and stories about the river and its surroundings, too.
Fun facts about the UK's best-known rivers:
As Britain's longest river, the River Severn flows for 220 miles from its source in the Welsh Cambrian mountains before emptying into the sea in the Bristol Channel.
More than 200 bridges span the Thames, and although you instantly think of Tower Bridge or the Millennium Bridge as iconic crossing points, the majority of the bridges are just a practical way to get across the river.
It is reported that more than 30 different types of fish live in the River Trent and some people believe its name is linked to the Celtic word for 'strong flood.'
Can you believe that the only city the River Wye flows through is Hereford? The city's Victoria Bridge was built over the Wye to celebrate Queen Victoria's diamond jubilee.