It's the home of the Bard and attracts huge numbers of visitors each year. We round up some of the delights the town, and surrounding area, has to offer groups.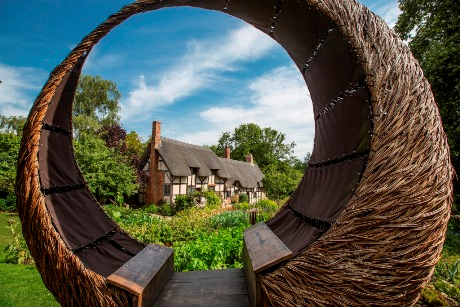 1. Shakespeare's Schoolroom & Guildhall

Find out what inspired and shaped the mind of the world's greatest ever playwright during his school days in the 16th century. Pass through the same doors that William Shakespeare did from the age of seven and get the chance to do some Tudor homework. Groups can benefit from special rates and should book in advance.
www.shakespearesschoolroom.org

2. Stratford Town Walk

Enjoy fascinating stories of fire, flood, plague, old-fashioned sayings and medieval cures wrapped up in a little Shakespeare on this seven-day a week guided tour of Shakespeare's birthplace and other town highlights.
www.stratfordtownwalk.co.uk

3. Guided tour of the Cotswolds
Take in the British countryside in all its summer glory. Go Cotswolds offers small groups guided day tours of this picturesque region, visiting seven unique locations every Wednesday, Thursday, Friday and Sunday.
www.gocotswolds.co.uk

4. Stratford Butterfly Farm
Overcome arachnophobia by getting up close and personal with three redback spiders - close relatives of the black widow - along with a Chilean rose tarantula and a giant prickly stick insect. Twice daily Meet the Mini-Beast during the holidays.
5. Land Rover's 70th birthday
The British Motor Museum at Gaydon, near Stratford-upon-Avon has plenty on for groups visiting all year-round.

Pictured: The Welcome Gallery at British Motor Museum.
This summer it is celebrating Land Rover's 70th birthday this summer with a programme of themed fun activities. Every Wednesday, until 2nd September, visitors can discover the world of science during two 25-minute shows full of cool interactive demonstrations with the 'mad scientists'.
www.britishmotormuseum.co.uk

6. Inside Out from the Royal Shakespeare Company
Highlights at Bancroft Terrace include an outdoor pop-up theatre hosting a range of puppet shows and production-themed mini performances and interactives for people to play with including Montagues v Capulets table football and an opportunity to create your own sound effects.
www.rsc.org.uk

7. The Bell at Alderminster
Relax with the flamingos in the gardens of this charming pub and enjoy a range of dishes and summer inspired drinks.
www.bellald.co.uk

8. Sunday Lunch and Live Music at the Arden Hotel
Enjoy delicious food in one of the most picturesque locations in Stratford while listening to live music in the Waterside Brasserie on various dates throughout the summer.
www.theardenhotelstratford.com

9. Anne Hathaway's Cottage
Explore and play your part in Threads of the Unsaid, a curious experimental art installation based on Romeo and Juliet from 21st July until 1st September.

Pictured: Anne Hathaway's Cottage.
This retelling of Shakespeare's tale of love, loss and reconciliation will feature responses from visitors that will grow and unfurl into a tunnel of scarlet red threads woven into the orchards. It culminates in a Meet the Artist event on 1st September.
www.visitstratforduponavon.co.uk

10. Hotel du Vin
The restaurant, in the new hotel, focuses on French cooking, earthy dishes and slow-cooked foods. Next to the bistro is a cosy courtyard, ideal for al fresco dinning.
www.hotelduvin.com

11. Dragon Slayer at Warwick Castle
Showcasing the journey of Guy of Warwick as he battles beasts to win the heart of Princess Felice, the Earl of Warwick's daughter. Combining fire jousts, equestrian acrobatics, stunts and performances, the show runs for several nights in August.

Pictured: Dragon Slayer at Warwick Castle.
Don't worry if you can't make the dates, groups can benefit from a variety of packages throughout the year.
www.warwick-castle.com/dragon-slayer

12. Bonds Lifestyle
This is a destination for refreshingly different and unique antiques and interiors shopping. Don't miss a visit to this summer. If you're at Countryfile Live at Blenheim Palace in August they have a stand there too.
www.bondslifestyle.co.uk

13. Mary Arden's Farm
Experience the childhood home of Shakespeare's mother along with the sights, sounds and smells of a working Tudor farm. Meet the Tudors who run the farm just as Shakespeare's mother would have done, watch craft and falconry demonstrations and explore the farmyard, playground and historic buildings.
www.shakespeare.org.uk

For more suggestions on things to do plus recommended accommodation and restaurants in the area visit www.stratford-upon-avon.online
Main image: The Moon Seat at Anne Hathaway's Cottage. Credit: Shakespeare's Birthplace Trust.