A musical that understands what makes Cher so iconic, from naive newcomer to global pop star.
How do you create an icon? Rick Elice, co-author of Jersey Boys, the multiple Tony and Olivier-winning musical about The Four Seasons, certainly knows how. With The Cher Show, Elice's knack for capturing the spirit of his subject(s) is tested by an unusual but effective plot device in which three actors simultaneously don the singer's legendary persona. The result is a take on the 'Goddess of Pop' that is so fresh and highly successful, we may have to start calling him the 'God (or at least, Master) of Musical Biography'.
The three Chers, each representing a different phase in both her professional and personal evolution, take us on a tour through four decades of the singer's illustrious career. Starting in the late 50s and early 60s, 'Babe' - played by Millie O'Connell – is the naive but extremely talented newcomer.
Throughout the 70s, Danielle Steers is the assertive 'Lady' who fights for her independence and struggles with the collapse of her marriage. It is then up to 'Star', who in this performance was played by Samantha Ivey, to forge a career on the stage and big screen, whilst facing the stigma of being "an older actress" at the age of 40.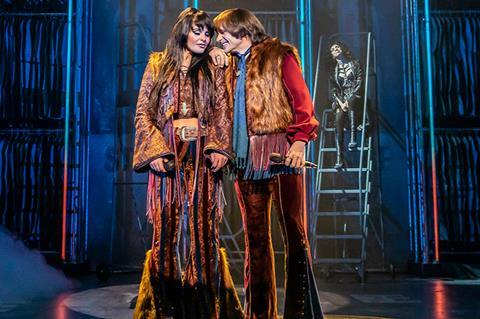 While the deep East Coast accent did go awry in a number or two, what each actor presented confidently throughout was not impersonation or caricature, but a living, breathing snapshot of the person Cher once was and still, in many ways, is today. It's really clever: the three versions, as they interact with one another and dip in and out of each other's scenes, create the illusion that what we're witnessing is not a recreation of events but a memory of a time past.
Saying that, it's not all that deep! Its title, a pun on the television show Cher presented in the 70s, tells us from the outstart that it doesn't take itself too seriously. Tom Roger's set is decorated with a variety of the singer's wigs and the choreography by Strictly's Oti Mabuse is flamboyant and absolutely fabulous.
Each actor presented a living, breathing snapshot of the person Cher once was and still, in many ways, is today.
"There's no Cher without Sonny." Lucas Rush crafts an endearing portrait of Cher's deeply flawed ex-husband and former bandmate Sonny Bono. Rush's Sonny is a product of his time: the unelected decision-maker of the relationship and the sole owner of the 'Sonny and Cher' brand, who gradually allows his stubbornness and deep-rooted sexism to unpick the couple's relationship.
Yet, he's also Sonny, Cher's double-act partner, her right-hand man, who is more than happy to be the punchline of a joke and her devoted cheerleader, who bets every dime he has on Cher's talent. Even when the duo is at they're most fragile, I Got You Babe, reprised throughout, preserves the image of two young lovers, nudging each other and giggling in the musical interlude. It is Rush's sensitive performance that makes Cher's sentimentality about their relationship not only believable, but palpable. For the most part, it really was The Sonny and Cher Show.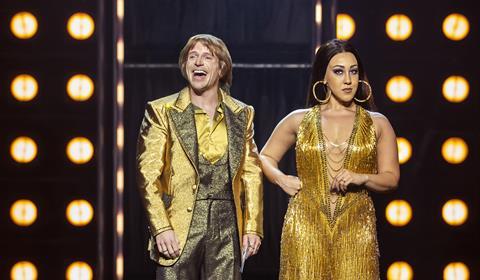 What was particularly impressive was the show's ability to subvert any expectations that it was 'just another jukebox musical'. The thing is: it never really felt like one; we weren't waiting for the band's cue after a cheesy one-liner, and it did well to side-step the trapdoor clichés. It would have been easy to turn Believe into a slow-burning powerhouse ballad, but it didn't.
Instead, we were treated to snippets of songs that worked well to communicate fleeting moments of high emotion - Bang Bang (My Baby Shot Me Down) is one to look out for. What's more, renditions of Half-Breed, Living in a House Divided and All or Nothing felt anything but repurposed or crammed in to fill time. How the show frames its numbers, and does so beautifully, is by placing its lyrics back in their original context.
The Cher Show is an ideal tribute to a living legend that steers clear of cliché. It's a production that celebrates Cher's achievements without reducing her to a two-dimensional image of worship. In a word, it's iconic. Cher's mother Georgia neatly sums up the show's message when she says: "Honey, I've seen every version of you; and in every one you're a somebody."
We saw The Cher Show on Tuesday 9th August at Milton Keynes Theatre. The tour currently runs until 18th March 2023.
Group rates are venue specific with more information available at cheronstage.com