Chessington World of Adventures Resort in Surrey has opened the world's first Jumanji themed land bringing the film franchise to life.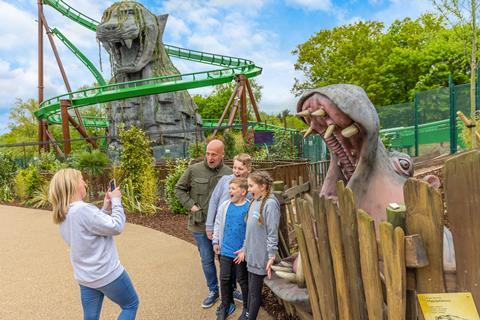 With three new rides and a heap of Jumanji-themed attractions, World of Jumanji is Chessington's single largest investment in its history, with 144 tonnes of steel track bringing to life the world's only Jumanji rollercoaster, Mandrill Mayhem – the equivalent weight of 96 hippos.
Riders on Mandrill Mayhem are swept up in the long arms of a mandrill only to be flipped upside down at 42 miles per hour while dodging the hazards of the jungle and spiralling to the summit of the 55ft tall Jaguar Shrine.
Mamba Strike has riders soaring into the sky before swooping back down again, and the other new addition will have guests 'swerving a herd of stampeding ostriches' on the whirilwind Ostrich Stampede.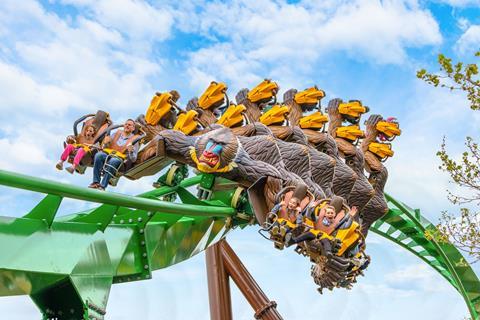 Scott O'Neil, CEO of Merlin Entertainments, which operates Chessington, said: "Whether you are a fan of the films, a fan of rollercoasters or are looking to take your adventures to the next level, the amazing World of Jumanji is ready to welcome all those who seek to find, a way to leave their world behind.
"Years in the making by the best teams in the business and full of 'firsts', we can't wait to share the adventures within World of Jumanji."
"With Chessington's first inversion we know that we have created an experience that will turn seasoned enthusiasts - and a new generation of rollercoaster fans - upside down."

Scott O'Neil, CEO, Merlin Entertainments
Alongside three rides, groups will encounter other Jumanji-themed activities, including a maze of pathways reminiscent of the board game in the 1996 film. There's also themed refreshments in the Bazaar.
Groups have more than 40 rides and attractions to choose from on a visit, or for those who enjoy life in the slow lane, the site is also home to more than 1,000 animals in its zoo and SEA LIFE centre.
There is no limit on group sizes, with rates available from ten or more people. You can save more money with larger groups. For more information, go to www.chessington.com.