Manchester has revealed the launch of a new Treetop Trek adventure park which allows groups to tackle challenging and fun courses from tree height.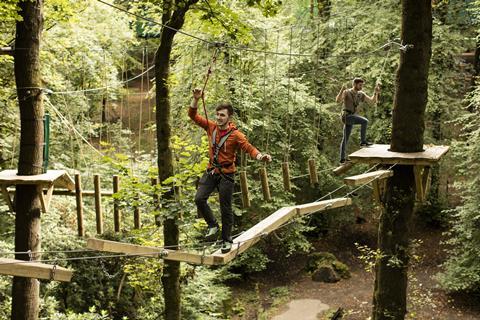 The Treetop Trek attraction is set to open on Saturday 8th July and joins Treetop Nets, which opened in May, to form a Treetop adventure park offering visitors, including groups, an active and fun day out, immersed in nature.
Treetop Trek
The adventure park includes a ZipTrek which boasts 36 exciting aerial obstacle challenges which include balance bars, swinging logs, zig-zag bridges and 15 zip lines, from which trekkers can glide through the tree top canopy at a height of up to 15 metres.
This treetop adventure is suitable from ages seven years upwards and a visit typically lasts up to three hours.
For groups with younger members, the lower and shorter Mini Trek is suitable and lasts approximately one to two hours, with 13 activities including a skateboard challenge and seven zip lines.
Group visits
Group travel organisers can benefit from off peak discounts when booking for ten or more people.
There are also bespoke packages available for groups, which can be booked via the website. A group visit can involve team building exercises as well as the activities already on offer.
Treetop Nets
Treetop Nets, which opened in May, is suitable for everyone from the age of three and offers another aerial woodland adventure, this time featuring a collection of giant trampolines, walkways, slides and tunnels, all made from bouncy netting, suspended up to 40 feet off the ground.
Both Treetop attractions will be open throughout the year in all weather conditions.
For more information, visit www.treetoptrek.co.uk/group-bookings.