The London Transport Museum has launched Hidden London tours for groups for the very first time, taking visitors down into some of the capital's disused tube stations and secret spaces at a discounted rate.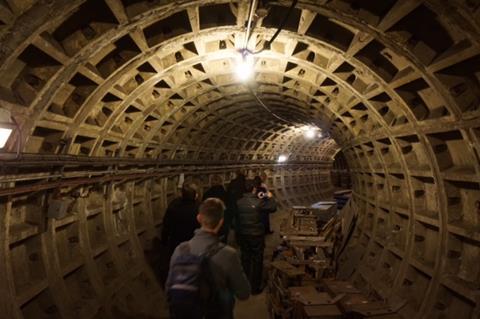 The team from the museum launched the offering for the first time at the Group Leisure & Travel Show 2019, with groups now able to explore some of London's hidden underground gems.
Speaking at the GLT Show, held at the Marshall Arena, Milton Keynes on Thursday 10th October, Ollie Burton, business development manager for London Transport Museum said: "We're very excited to be launching our Hidden London tours for the groups market for the first time ever.
"These tours of disused tube stations, hidden tunnels and secret spaces on London's transport system will take visitors into some fascinating spaces."
What can visiting groups expect?
The museum has obtained exclusive access to a number of forgotten and previously inaccessible places under the city, some of which date to the foundation of the network in 1863.
Led by experienced guides, groups will wander through hidden passageways and concealed chambers, hearing stories about war-time shelters, feats of engineering and top-secret hideaways.
You can see what to expect in our gallery below…
Ollie continued: "A popular station with our visitors is Down Street, which sits on the Piccadilly Line between Hyde Park Corner and Green Park. It was converted in the late 1930s to the top secret headquarters of the Railway Executive Committee, which ran the UK's railways during World War Two.
"Sir Winston Churchill, who was the chairman of the committee, used to regularly attend board meetings down there - he even sheltered down there for eight nights across a 40-day period during the Blitz. The station was converted into boardrooms, bedrooms, bathrooms and more, plus there was even a 50-line telephone exchange installed."
Key information about the Down Street tour
Known as Churchill's Secret Station, each tour lasts around 90 minutes.
The tours run between August & September and November until December - more dates for 2020 will be released in November
More modern disused stations can also be seen, including parts of Charing Cross that were used as a filming location in the James Bond film Skyfall.
More about the museum
The actual museum sits in the heart of Covent Garden, telling the story of the capital's transport system over the last 200 years through interesting exhibits and retro vehicles, such as 19th century horse-drawn buses, the world's first underground railway and early red double-decker buses.
A Hidden London exhibition will run until 2021, offering a similar experience to the actual tours - it takes visitors on an immersive journey of some of London's most secret spaces. It includes the largest number of rare archives photographs, objects, vintage posters, secret diagrams and decorative tiles from disused stations that have been brought together in one place.
A new Transport at War gallery will open in May 2020 and a London Today & Tomorrow exhibition will open in autumn 2020.
Groups of ten or more qualify for discounted rates on a Hidden London tour. For more information, visit www.ltmuseum.co.uk