Tintagel Castle in Cornwall will reopen on Sunday (11th August) after the completion of a new footbridge, recreating the historic link between the mainland and island.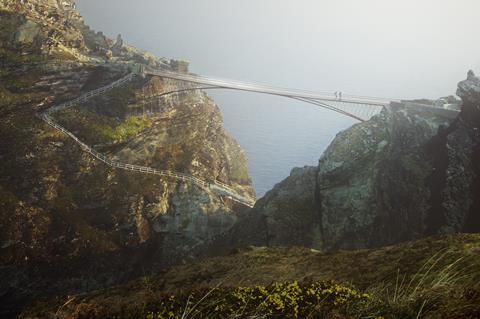 The remains of the 13th century castle can be seen on both the mainland and the island. In the Middle Ages, Tintagel's residents would walk from one side of the site to the other using a narrow land bridge as high as the cliff tops.
The bridge has been designed to span the 70-metre gap between the two halves of the site, acting as a replacement to the previous walkway which collapsed into the sea.
For the first time in centuries, visitors will get a first-hand experience of how Tintagel's residents used to walk to and from the site.
English Heritage's work on the bridge is part of a wider project to care for the castle, including a new route through the landscape and refreshed pathways, which aim to help protect the site's archaeology and ecology.
The new bridge, which was formed by dropping different steel sections into place, also provides an alternative way of reaching the island, compared to the 140 steps that was previously its only access point.
Two independent cantilevers of approximately 33m in length, reach out from the each side of the cliff tops and almost touch in the middle to form the new-build. At the centre, a narrow 40mm gap has been designed to 'conceptually offer visitors a sense of transition between the mainland and the island, the present and the past'.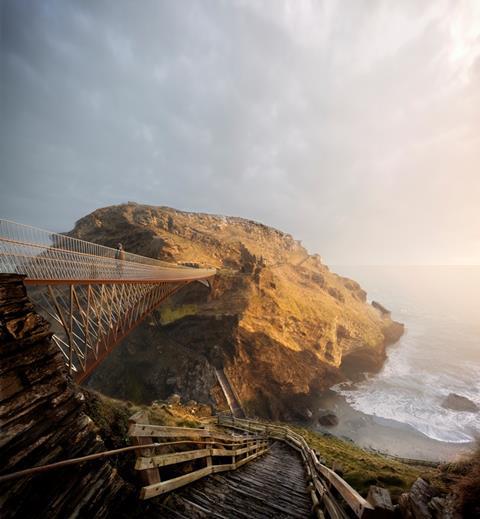 Tintagel Castle for groups
It is essential for group travel organisers and operators to pre-book visits.
Timed ticketing has also been introduced to manage the number of people visiting and limit the impact . The ticket system will also help group visits run as smoothly as possible, especially at peak times.
There is also a Beach Café with seating for 50 inside and 66 on an outdoor terrace.
Coach drivers and tour leaders are provided with a free lunch and all groups receive 10% off per person in the café on the day of their visit too.
Groups of 11 or more qualify for discounted entry to the site, with coach drivers and tour leaders also going free.
About Tintagel Castle
As well as visiting the ruins at Tintagel Castle, group members can see an exhibition outlining its 1,500-year history.
The castle is heavily linked with tales of King Arthur and was built in the 1230s and 1240s by Richard, Earl of Cornwall.