Tickets for County Durham's upcoming live action show, Kynren - an epic tale of England, have now gone on sale, along with the announcement of new additions to the spectacular this year.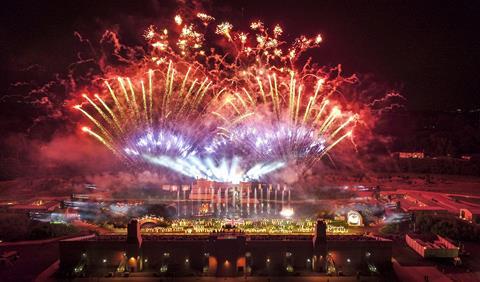 The live action spectacle which takes place in Bishop Auckland, County Durham, will run each Saturday between 29th June and 14th September.
Tickets are now on sale and groups of 20 plus can enjoy discounted admissions.
Highlights of this year's event
This year, Kynren - an epic tale of England, will celebrate the Year of the Viking and to mark the theme, the show has added enhancements to its existing Viking scenes in the show, involving Viking longships, marauding invaders and fire effects.
It has also revealed a new 'Viking Village' which will be part of the immersive experience. Before you take your seats for the show, you will this year be able to take a stroll through a more peaceful side of Viking life.
Here, you'll discover sights such as a cookhouse, complete with its own vegetable patch and a woodworker's cottage built into the hillside. Take a wander along the stream and watch the past come to life at the working blacksmith's forge where you'll be able to see real chainmail being made.
Don't miss the village's animal inhabitants too, like the Highland cattle and the curly haired Wensleydale sheep.
The show will also be adding a new scene called Lady of the Lake. During which, watch as the legend of Excalibur is brought to life as young Arthur experiences a magical encounter with the Lady of the Lake and her beautiful white horse.
Also new this year is a 1940's Bar in the Food Village, where you'll be able to fill up with food and drink, most of which comes from, and is served by, local suppliers.
What to expect from Kynren - an epic tale of England
Performed by a 1,000-strong cast and crew on a 7.5-acre outdoor stage at Bishop Auckland, County Durham, watch legends come to life in a thrilling tale told on an epic scale - 2,000 years in the making.
Watch Boudicca's courageous but doomed uprising against the Romans and the clash of Viking and Anglo Saxon leaders at the battle of Stamford Bridge. Experience the excitement of daring jousting knights on horseback charging at full speed, for the entertainment and merriment of Bishop Bek, the Prince Bishop of Durham, and his colourful entourage.
And step aboard Queen Elizabeth I's royal barge as she invites Shakespeare to introduce some of his most famous characters, trace the bloody outcome of England's Civil War and follow King Charles' final journey to the executioner's block.
For more information, visit www.kynren.com.