A collection of larger-than-life sculptures will go on display at RHS Garden Wisley this spring for its major 2020 art exhibition.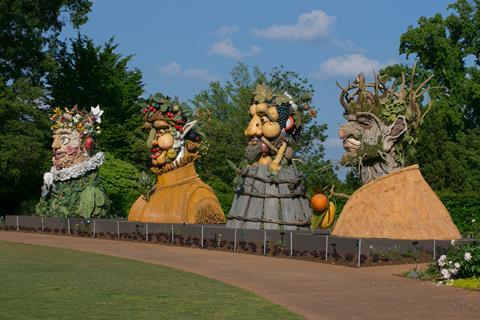 Opening on 9th March until 30th September, this is the second time the works of art have been displayed in the UK, based on 16th century paintings by Italian Artist Giuseppe Arcimboldo.
The human-like figures stand at 15 ft tall and detail the four seasons through seasonal fruit, vegetables, flowers and crops.
Appropriately named The Four Seasons, visitors to the garden last year may have seen the smaller maguettes that were displayed in the Welcome building, but the full-scale sculptures are said to offer a bold new perspective.
Matthew Pottage, RHS Garden Wisley curator, said: "The maquettes were hugely popular with people of all ages – how could you fail to be enchanted by this verdant vision of spring, or caught in winter's unflinching gaze?
"Wisley's unique landscapes offer exciting new ways to view the works, and the sculpture will take on a different character as the garden moves through the seasons."
The well-detailed sculptures were created by American sculptor and film-maker Philip Haas. He continued: "I embarked upon the Four Seasons project wanting to re-contextualise Arcimboldo's 16th-century nature imagery within the 21st-century physical world, through changes in scale, material and dimensionality.
"With the exhibition taking place at Wisley over multiple seasons, another transformation will occur to alter and enrich the viewer's perspective – the passage of time, the play of light and weather on the sculptures."
More information
A self-guided map will lead visitors around the garden in Surrey and the exhibition will be included in normal garden admission.
Groups visiting RHS Wisley can benefit from a variety of special offers including reduced entry price when pre-booked, free coach parking and free entry for the coach driver and group organiser. Private tours can also be arranged.
Matthew added: "We are delighted for the opportunity to showcase the full-size artworks in the garden and we know our visitors will be just as excited to experience them as Philip Haas intended."