The Warner Bros. Studio Tour London – The Making of Harry Potter has announced that it will be opening a new attraction this spring – Gringotts Wizarding Bank.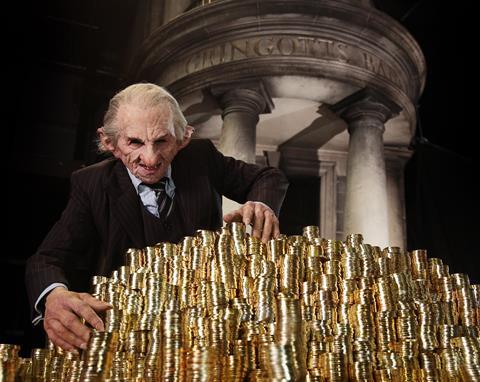 For the first time ever at Warner Bros. Studio Tour London – The Making of Harry Potter in Watford, visitors will be invited to enter the set of Gringotts Wizarding Bank, said to be the attraction's biggest expansion to date.
The new addition to the studio tour will be unveiled on 6th April and is set to be a permanent feature of the experience.
About Gringotts Wizarding Bank
From Harry Potter first discovering Diagon Alley to the famous trio escaping on a Ukrainian Ironbelly dragon in their quest for a Horcrux, Gringotts Wizarding Bank played an important role in the Harry Potter film series.
Lined by towering marble pillars, the grand banking hall will be decorated with three crystal chandeliers and finished with real brass leaf. Inkwells, quills, ledgers and piles of Galleons, Sickles and Knuts will complete the goblin tellers' desks as seen on screen.
Gringotts Wizarding Bank is famously run by goblins. Walking through the imposing marble columns, visitors will discover the costumes and prosthetics belonging to Bogrod, Griphook and many other goblin bankers.
Once through the banking hall of Gringotts, visitors will enter the depths of the Lestrange Vault used to store the treasures of Bellatrix Lestrange including the Sword of Gryffindor and Helga Hufflepuff's Cup, one of Voldemort's many Horcruxes.
During filming 38,000 pieces of rubberised treasure were created the for the Lestrange vault including 7,014 Hufflepuff Cups. Here, visitors can try out a photo opportunity allowing them to step inside the Lestrange vault and surround themselves with treasure.
Visitor information
Entrance to the expansion will be included in general admission ticket price. Group packages are available including lunches and afternoon teas.
For more information, visit www.wbstudiotour.co.uk.