The 60-minute guided tour from the team at Canterbury Cathedral in Kent will have groups uncovering every intricate detail of its stained glass windows, believed to be among the oldest in the world.
Research in 2021 indicated that some stained glass windows from Canterbury Cathedral may be among the oldest on the planet.
The panels, depicting the Ancestors of Christ, have been re-dated using a new technique which places the windows around the mid-1100s, a discovery which groups can celebrate on a special guided tour which has been created to highlight the findings.
The tour leads groups through different periods of stained glass, from the early medieval Ancestor Windows through to modern examples, including the 'Miracle Windows' which tells of miracles performed at Thomas Becket's shrine, and informative panels illustrating stories from The Bible.
Four of the Ancestor Windows were even present at the time of Thomas Becket's murder at the cathedral in 1170.
Visitors will be introduced to stained glass production techniques used to create some of the most colourful and imaginative stained glass in the country, all in the setting of the UNESCO World Heritage Site of Canterbury Cathedral.
The tour can be organised for any day or time to suit the group's requirements, with special rates available, free entry for the group travel organiser and a dedicated visits team to help things run smoothly.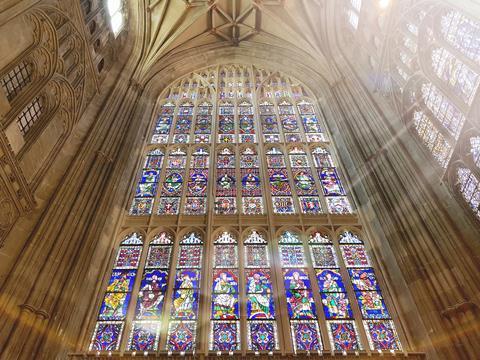 A major exhibition
A new exhibition, Making History: Church, State and Conflict Exhibition at Canterbury Cathedral, has also opened in the cathedral's crypt, allowing visitors to see a collection of artefacts – including the battle shield, gauntlets and jupon of medieval warrior Edward The Black Prince, and fragments of Thomas Becket's shrine – to tell the story of Church-State relations.
The exhibition focuses on the struggles between archbishops and kings, with a particular focus on Canterbury Cathedral's role within this relationship, as illustrated in the Cathedral's buildings, collections, and the stories of its people.
Other objects to see within the exhibition include the Accord of Winchester, an 11th centruy document witnessed by the likes of WIlliam the Conqueror, and the Grant from William de Tracy who was one of the four knights to murder Thomas Becket.
De Tracy made this grant of 100 shillings (equivalent of approx. £10,000 today) as a penitential gesture for his role in the killing very soon after Becket was made a saint. The exhibition is open throughout 2022.
Pilgrims and visitors have made their way to Canterbury Cathedral since the Middle Ages and it remains one of the most visited places in the country as well as being a working, living church and community.