A new attraction transports visitors back to 878 AD, bringing to life the Great Battle of Edington which was pivotal for the history of Winchester and England.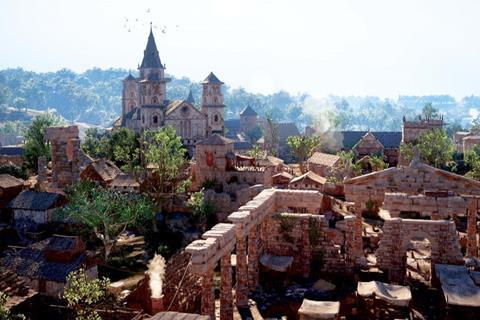 Opening at Winchester's The Brooks Shopping Centre, 878 AD will recreate the atmosphere of the city and the lives of the people who lived in it on the eve of the battle, as they anxiously await its outcome.
The experience is made up of two parts. The first is a physical attraction which will give groups an insight into Anglo-Saxon Winchester through six different live performances.
Contemporary Anglo-Saxon objects from Hampshire Cultural Trust's collections will also be on display, including the Winchester Reliquary, the only known Anglo-Saxon reliquary to have been found in England.
There will be interactive elements such as Anglo-Saxon games and podiums where visitors can find out more about the Anglo-Saxons and their Viking foes, and then test their knowledge with a quiz.
About the Battle of Edington
The arrival of a Danish 'great army' in 865 marked the start of a new phase of Viking attacks on Britain. It was a major battle under the rule of King Alfred of Wessex who was ultimately victorious, pushing the Danes into an area we now call The Danelaw, where Danish law and custom applied.
King Alfred was said to have followed up his victory by creating a number of fortified towns.
Winchester was of course known as King Alfred's capital of England.
After discovering the result of the Battle of Edington, visitors will be able to journey through Alfred's legacy - the city of Winchester - in the second part of the 878 AD experience: 878 AD: Winchester Revealed.
This stage of the experience can be enjoyed through an app which has been specially developed and uses the Assassin's Creed universe which is from the best-selling video gaming series, Assassin's Creed which was also made into a Hollywood film. Through augmented reality technology, users will visit key historical points throughout Winchester where buildings from the city's past, including the Nunnaminster, are brought to life.
They will also be able to undertake challenges along the way, including virtual archery practice, creating a shield and throwing an Anglo-Saxon pot.
Group rates will be available for 15 or more people.
Paul Sapwell, chief executive of Hampshire Cultural Trust, said: "878 AD is without a doubt the most exciting and innovative project that we have embarked on at Hampshire Cultural Trust.
"We want 878 AD to attract more visitors to our city, increasing its reputation nationally and internationally as a cultural destination. Most of all, we want to create a sense of wonder and excitement for our visitors and through the use of gaming assets, innovative technology and real Anglo-Saxon objects, opening up our history and heritage for everyone to discover."