A permanent exhibition has been unveiled at the RAF Museum in London telling the stories of individuals who played crucial roles in the famous 'Dam Busters' raid.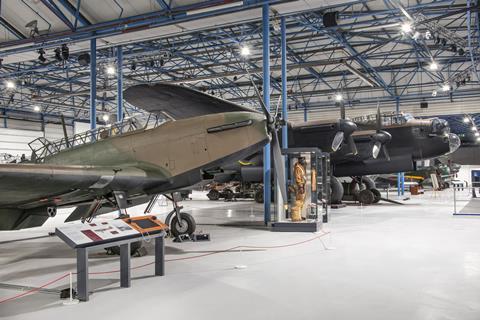 Strike Hard, Strike Sure: Bomber Command 1939–1945 features a new take on the Bomber Command story with a number of historic aircraft also on display at the museum.
Around 125,000 aircrew from 60 nations served in Bomber Command during World War Two, volunteering from Britain, the Commonwealth and Dominions, occupied and neutral countries as well as German nationals fleeing persecution. Their average age was just 23.
Visitors to the exhibition at the museum in Grahame Park Way, London, will find out how these seemingly ordinary from different countries and backgrounds gave extraordinary service.
Inventor of 'bouncing bomb' used in Dambusters Raid
Throughout the new display, silhouettes depict the stories of individuals who played crucial roles, like that of British engineer Barnes Wallis the genius inventor behind the 'bouncing bomb', used in the famous Dams raid.
It was the 617 Squadron's secret weapon in the incredible Dambusters Raid which was launched from RAF Scampton, Lincolnshire, on 16th-17th May, 1943, on German dams.
Wing Commander Guy Gibson led 617 Squadron of the Royal Air Force on an audacious bombing raid to destroy three dams in the Ruhr valley, the industrial heartland of Germany. The mission was codenamed Operation 'Chastise'.
The dams were fiercely protected. Torpedo nets in the water stopped underwater attacks and anti-aircraft guns defended them against enemy bombers.
Barnes Wallis developed the idea of the 'bouncing bomb' by bouncing marbles across a water tub in his back garden. Visitors to the exhibition will be able to see a replica of this 9,250lb cylindrical Anti-Dam Mine.
Also on display at the new Bomber Command exhibition
As well as other Bomber Command aircraft such as the Handley Page Halifax and the tail section of the Short Stirling Mk III surrounded by new hi-tech interpretation, the team have been able to exhibit personal objects taken from storage.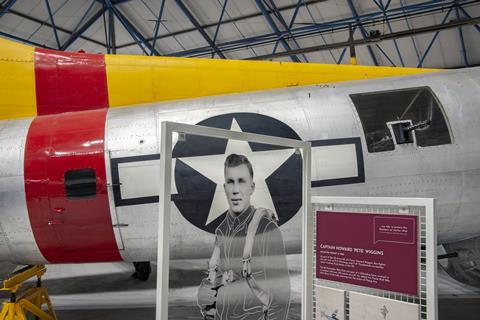 These include the fire-damaged flying helmet, jacket and goggles belonging to Sgt John Hannah. This brave wireless op/air gunner was awarded the Victoria Cross by extinguishing an on-board fire with just his bare hands – thereby saving his aircraft and crew against all odds.
Visitors will also learn about Captain Howard 'Pete' Wiggins who joined the USAAF in 1942. On 26th November, 1944, he was part of a defending force involved in a combat with more than 150 enemy aircraft. He added two Focke-Wulf 190s shot down to his tally, earning him the status of Flying Ace.
Some of the innovative technical developments that supported Bomber Command in the delivery of their operations are also on display including the 22,000lb Grand Slam Bomb; and a Rose Brothers Type R gun turret.
Themes covered range from training, tech and tactics to precision raids, experience and loss. There's a timeline detailing key events in Bomber Command's history and aircraft development and augmented reality to help visitors' understanding.