The northern Italian region of Emilia Romagna now offers Sentiero dei Ducati which can be explored by groups either on foot or by bicycle.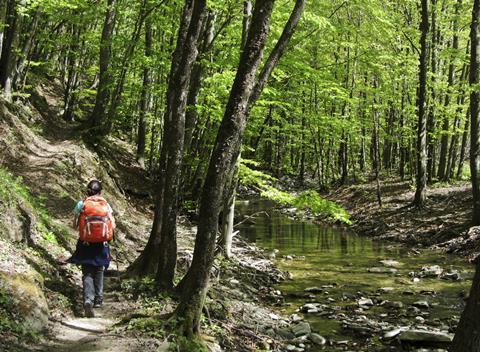 Sentiero dei Ducati (the Duchies Trail) is designed to retrace the ancient routes contouring the borders of the historic Italian regions once ruled by a Duke or Duchess.
Sentiero dei Ducati has two different trails: one for hikers (160km) and another for mountain bikers (90km) – both of them starting in the picturesque village of Quattro Castella (Emilia Romagna) and ending in the ancient Roman port of Luni (Tuscany).
The new path covers the most spectacular corners of the northern Apennines, crossing vineyards, castles, ancient churches, stone made villages, fresh streams and beech forests that will delight bikers and cyclists alike.
The hiking trail can be done in 11 stages, comprising over 7,000m of ascent and 7,300m of descent; while the cycling trail offers an extraordinary ride in six stages, from the plains to the sea.
The new Pilgrim's Path retraces the old routes contouring the borders of the duchies that governed the region from the 16th to the 19th centuries: the Estensi's duchies of Modena and Reggio, the duchy of Parma and Piacenza and the duchies of Tuscany.
With the addition of Sentiero dei Ducati, there are now 20 ancient pilgrimage routes that cross through Emilia Romagna. These paths, characterised by strong spiritual, historic and natural value, can be experienced on marked pedestrian and bike paths that are emphasise Emilia Romagna's place as a religious and cultural tourism destination.
One of these paths, Roads of Dante ("Vie di Dante"), was recognised as a 'sustainability winner' and "slow travel delight' in the latest edition of Lonely Planet's annual Best in Travel guide.
Along these walks, modern pilgrims can stop at important prayer centres, monasteries, historic parishes, archaeological sites, medieval towns, as well as protected nature reserves, regional and provincial parks of extraordinary beauty.
Groups will find a variety of accommodations along the network of pathways such as lodges, pilgrim houses, hostels, convents, monasteries and holiday homes.