One of Scotland's most famous visitor attractions will reopen this spring after a £1.5 million transformation project to engage, entertain and inform visitors about the Loch Ness Monster.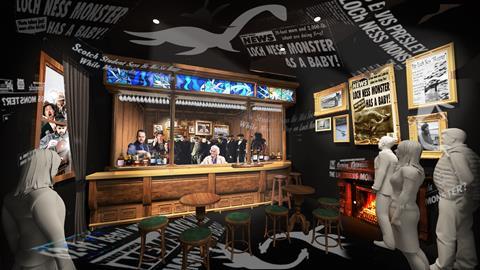 Once complete, the newly named Loch Ness Centre will explore the iconic story behind the loch, alongside the scientific research that has turned 'Nessie' into a world famous name.
Plans for the refurbishment project show a new Prologue Room at the beginning of the visit that will aim to spark imagination for what is to come, plus a dedicated space which explores the media stories and sensations reporting Nessie sightings over the years.
The investment into making the refurbishment possible comes from Continuum Attractions after it was announced the company would be taking over the site.
Continuum Attractions looks after many group-friendly attractions across the UK such as Oxford Castle & Prison, Spinnaker Tower in Portsmouth and Coronation Street The Tour in Manchester.
Mark Smith, trade and group sales manager of Continuum Attractions, said: "We look forward to introducing groups to Loch Ness Centre following our refresh ahead of the summer season. We'll continue to create the best possible packages allowing guests to explore this iconic destination."
Juliana Delaney, chief executive of Continuum Attractions, said: "Continuum tells the real stories in real places about real people. The search for Nessie encapsulates all three.
"This is a magical place - it could be our Jurassic Park, and if a monster hasn't been found here yet, this is the place in which it will be discovered! So I will encourage everyone to 'keep looking'."
The first exhibition at Loch Ness was founded in May 1980 by Ronnie Bremner and Tony Hamsworth. Bremner said that retaining the authenticity of the attraction is a priority.
He added: "As a family we have been in control of the Loch Ness Centre and Exhibition for over 40 years and my brother David and I felt the time was right for us to hand over the reigns to Continuum to develop the new and improved offering which will allow visitors to experience the history of the Loch Ness Monster by exploring Scotland's geological past and folklore like never before."