Fred. Olsen has announced that it will be offering a second sailing on the Corinth Canal in Greece in 2021.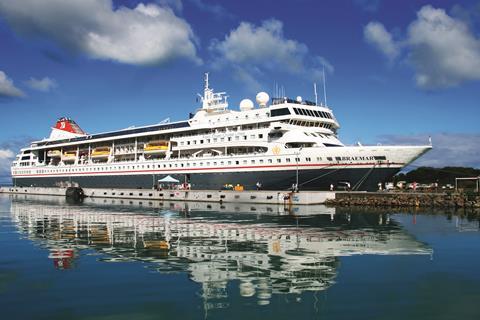 Next year, Fred. Olsen's Braemar is set to break what is thought to be the world record for the longest ship ever to traverse the Corinth Canal in Greece.
The initial 2019 trip has now sold out but the cruise line will be offering guests a second chance to sail on the canal, with its 'Greek Islands and Corinth Canal' sailing in 2021.
Tickets for the second 25-night cruise will go on sale to the Fred. Olsen's loyalty scheme from 19th to 21st November 2018 and will then be released for general sale on 27th November 2018.
The Corinth Canal shrinks to just 25 metres wide in places, with few ships small enough to travel through it but the Braemar will transport groups along the route, passing closely between the cliffs.
Clare Ward, director of product and customer service, said: "At Fred. Olsen, we strive to create memories that last a lifetime – and with guests aboard 196-metre Braemar set to be so close to the edges of the canal that they could almost touch the rock faces, we know it is a trip that will remain fondly in the memories of our guests."
Fred. Olsen will launch its full ocean cruise programme for 2020/21 in March next year.
Details for Fred. Olsen's second Corinth Canal sailing
The Braemar will depart from Southampton on 16th April 2021 and will then travel through Spain, Greece, Italy and Portugal before returning back to Southampton. The vessel will visit four Greek islands and will call at ports in destinations including Malta, Rhodes, Crete, Kefalonia, Sicily and Lisbon, among others.
The Corinth Canal itinerary will allow guests to take in cultural gems, ancient archaeological sites and natural wonders.
Highlights will include the UNESCO heritage site of Rhodes Town, a visit to the lesser-known island of Syros, where Braemar will dock within walking distance to Ermoupoli's cathedral, museums and galleries, and a scenic cruise past the Stromboli volcano.
Group benefits
Groups travelling with Fred. Olsen can benefit from free places for the organiser, free group drinks party, private group afternoon tea on request, and more.
To find out more, or book a trip, GTOs should call 01473 746 169 or email group.sales@fredolsen.co.uk.
For more information, visit www.fredolsencruises.com.