Disneyland Paris has announced a programme of new shows and costumes, including its first-ever aerial drone show and a fashion collaboration with Stella McCartney, ahead of its 30th anniversary.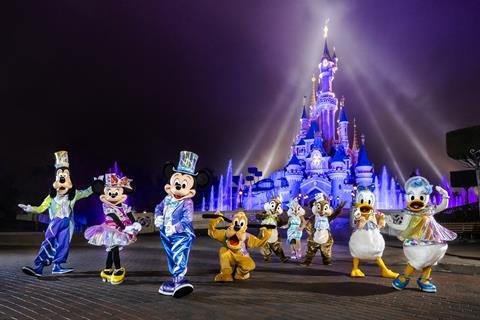 Since the park opened in April 1992, Disneyland Paris has developed immersive experiences to bring stories and characters from Disney, Pixar, Marvel and Star Wars franchises to life.
The resort's "new era" will begin on 6th March and be marked by "transformation, limitless creativity and new technology".
New shows
A new show will be performed throughout each day on Central Plaza at Disneyland Paris in front of Sleeping Beauty Castle which has recently undergone a 12-month refurbishment.
Consisting of three themes that celebrate the power of laugh, passion and dreams, it will feature more than 30 Disney characters and dancers with new colourful floats and soundtrack.
Visitors will have the opportunity to see Mickey, Minnie, Donald, Daisy and their friends decked out in their new "iridescent" costumes, specially created for the anniversary. They will be joined by other key characters, including the Genie from Aladdin, Princess Rapunzel and Jessie and Woodie from Toy Story.
In the evening, visitors will be able to experience "Disney Illuminations", known as Disney D-Light, a new pre-show which combines video projections, illuminated water jets, lighting effects, mist, famous Disney songs and drone choreography around the iconic Castle.
Entertainment and Gardens
In addition to the new entertainment program, visitors will be able to experience more than 50 attractions to suit all tastes as well as 'Selfie Spots' to interact with Disney characters and shows such as Mickey and the Magician and Disney Stars on Parade, which made its comeback in January 2022 after being suspended for nearly two years.
Disneyland Park will also host the Gardens of Wonder, comprising of 10 different theme-based gardens, installed in front of Sleeping Beauty Castle. The gardens will feature 30 new art pieces, kinetic Disney and Pixar sculptures which will "come to life" and celebrate nature and embody the diversity of popular Disney and Pixar characters.
Disneyland Park will be redecorated using the "iridescent" theme, with sparkling blue and purple hues. Lighting effects, neon lights and backlit kinetic mobiles will be used to decorate Disneyland Park's main places, such as the Gazebo, Main Street Station and the Disney Village.
Shopping
With its 63 theme-based boutiques and shops, shopping is said to be an experience in itself at Disneyland Paris and for the resort's 30th Anniversary, teams have designed more than 350 new exclusive items. Guests will be able to discover a new collection of products, from limited-edition collectibles to accessories.
And as part of a global collaboration with The Walt Disney Company, British designer Stella McCartney will market a Minnie Mouse t-shirt as part of International Women's Rights Day in March.
Avengers Campus
The 30th anniversary will mark the opening of the new theme-based area, 'Avengers Campus'. Starting in summer 2022, Super Heroes from the MARVEL universe will gather at Avengers Campus to invite Guests to embark on a new journey consisting of heroic adventures and missions, with the aim of extending the immersive experience.
About Disneyland Paris
Disneyland Paris includes Disneyland® Park, Walt Disney Studios® Park, seven Disney Hotels, two convention centres, the entertainment center Disney Village® and a 27-hole golf course. The resort is set over 2,230 hectares and features 59 restaurants, 10 bars and multiple snack stations.