The history of Waddesdon Manor's kitchen and the people who worked there is explored as part of a new free online exhibition.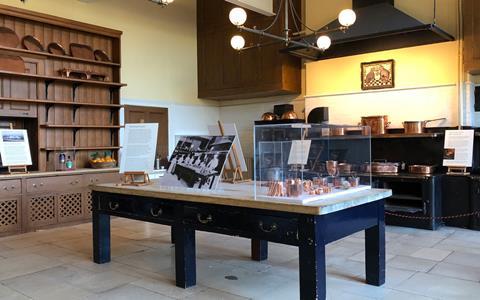 Completed in 1883 as a weekend retreat from London for Baron Ferdinand de Rothschild, Waddesdon Manor in Buckinghamshire also served as the setting for lavish house parties, attended by international royalty. The Prince of Wales and future King Edward VII was a regular guest, and Queen Victoria herself visited in 1890.
In 1891, 24 staff ran the house, but that number was said to double when the Baron was entertaining and his French chef and Italian pastry-chef travelled from London to Waddesdon Manor. One of them, his confectioner Arthur Chategner, had cooked for the Tsar of Russia and such was their artistry in the kitchen that Queen Victoria sent her own chef to learn from Ferdinand's after what was reported to be an epic lunch in 1890.
The Queen enjoyed six courses over several hours, starting with consommé, then trout, followed by quails, beef and chicken, ducklings garnished with buntings and asparagus, Soufflés a la Royale (decorated with gold leaf) and Beignets a la Viennoise – the original menu can be viewed as part of the online exhibition.
When the house was left to the National Trust in 1957, the Manor Kitchen was converted to a tearoom. However, as part of the 1990's restoration, elements of the kitchen were faithfully returned to how they looked at the beginning of the 1900s, with many fixtures and fittings still recognisable, including the serving hatch, tiled walls, ovens and extraction vent.
Everything in the online exhibition is said to help tell the stories of life in a Rothschild kitchen, from examples of table linen to keys and other domestic equipment. For coffee drinkers, there is also an early 1920's espresso machine to check out.