Visitors to Belsay Hall Castle & Gardens in Northumberland can once again experience a contemporary installation by composer Arvo Pärt, and UK designers Arup.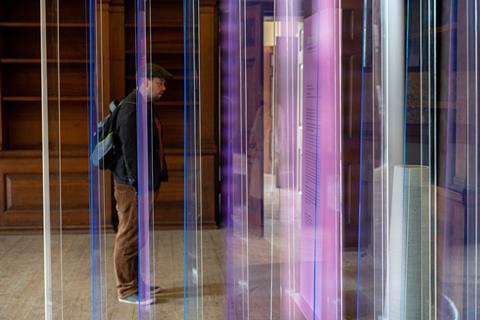 Memory & Light is a multi-sensory installation of music, light, colour, sound, texture, materials and forms, located in Belsay Hall's wood-panelled library, bringing Pärt's words from his Musical Diaries to life.
Visitors can sit on a viewing and listening bench shaped like a violin or cello beside a transparent curved screen, shaped like a harp to experience the composer's words and his music.
The art installation is now available to be seen by visiting groups and runs until January 2020.
About Belsay Hall Castle & Gardens
North-west of Newcastle, Belsay Hall, Castle & Gardens is one of English Heritage's best estates in the north east and offers plenty to see for a group day out.
It includes a ruined medieval castle enlarged into a Jacobean mansion, an imposing Greek revival villa and 30-acre Grade I listed gardens, famed for its magnificent magnolias and rhododendrons, formal and informal gardens and a romantic quarry garden.
Pre-booked seasonal garden tours are available for a small additional charge. Belsay's Victorian Kitchen Tearoom seats 50 and there is an on-site shop. There is free parking for four pre-booked coaches on site.
About Arvo Pärt
Born in Estonia in 1935, is one of the most performed living composer in the world, whose life and music is widely known to represent a drive for freedom and invention, against the odds.
Since the late 1970s, Pärt has worked in a minimalist style which uses his self-invented compositional technique. His most performed works include Fratres (1977), Spiegel im Spiegel (1978), and Für Alina (1976).