The 2021 edition of the Coaching Venues & Excursions guide offers lots of ideas and inspiration and is available to buy now.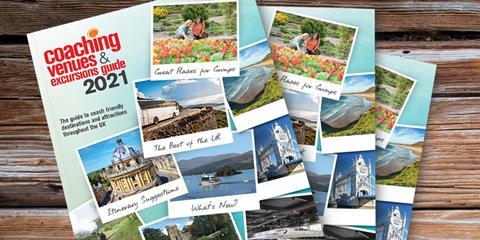 The 2021 edition of the annual Coaching Venues & Excursions Guide, published by Group Leisure & Travel, is now available in print and as an online digital edition.
The publication is an information source for coach operators and group travel organisers providing ideas and inspiration for coach trips and group holidays across the UK.
A foreword from John Wales, the chair of the Coach Tourism Association (CTA), positively introduces the publication, forecasting that 2021 will be a year of recovery for coach tourism, saying: "Naturally we all hope that it will be as near to normal as possible and there is no reason why that cannot be the case."
A focus on each UK region follows which include details of new openings, potential itineraries and more.
These regional features zoom in on specific parts of the UK, from the South & South East of England and Scotland to England's North Country and the West.
The 2021 edition of Coaching Venues & Excursions Guide also offers inspiration by way of ideas to suit a range of budgets, suggestions for locations which link to different themes, and places that have connections to famous faces or milestones throughout history.
Advice from Blue Badge Guides and accommodation suggestions add to what the publication has to offer for both coach operators and group organisers.