Buddy - The Buddy Holly Story will open at Harlow Playhouse on 28th August before travelling the UK following a successful six-month run of the USA and Canada.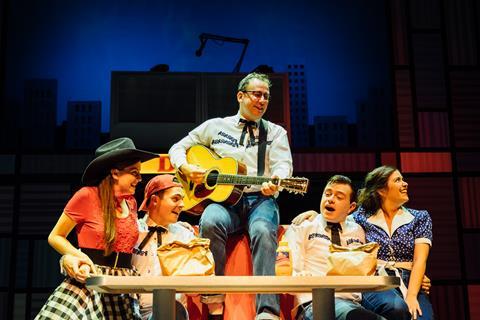 The musical will also return to its original opening venue, Theatre Royal Plymouth, from Tuesday 3rd September which will coincide with the late musician's birthday - 7th September.
Liverpool, Birmingham, Southampton, Coventry, Glasgow and a host of other cities and towns will stage the production, which will end its run in Edinburgh on 30th May 2020.
Group organisers should contact specific venues for any bookings and rates.
About the show
Audiences will learn of the 'enduring tale of the musical icon's meteoric rise to fame, through to his final legendary performance at the Surf Ballroom in Clear Lake, Iowa, before his tragic and untimely death at the age of 22.'
Featuring songs written by Buddy Holly himself, the musical uncovers his life and the huge success he encountered in such a small amount of time - around 18 months.
Since opening at Theatre Royal Plymouth in 1989, Buddy has been performed 4,450 times in the UK and Ireland alone.
Tom Berkeley and AJ Jenks will share the role of Buddy on the run, which features a score of other musicians, who play more than 20 of the rocker's hits, including That'll Be The Day, Peggy Sue, Oh Boy and Rave On.
30 years…and counting
In total, 186,000 guitar strings have been replaced (92 miles) and more than 212,000 plectrums used.
3,320 pairs of trousers have had to be replaced – due to 'Buddy' knee-sliding across stages throughout the world – and 410 pairs of glasses.
Over 33 tonnes of washing powder has been used by the wardrobe mistresses/masters, as well as more than 2,750 gallons of fabric conditioner.
150,000 feet (28.41 miles) of guitar cable has been used and 3,038,785 radio mic batteries replaced.