A exhibition focusing on the young pharoah Tutankhamun and his tomb artefacts will go on display in London later this year.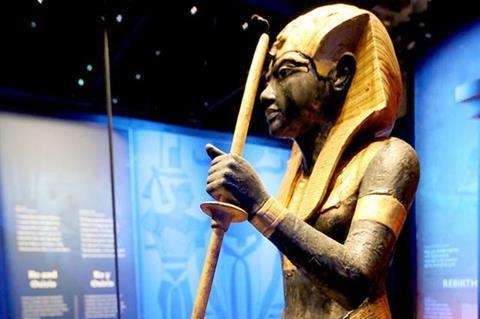 Opening in London in November 2019, Tutankhamun: Treasures of the Golden Pharaoh will be displayed within the Saatchi Gallery.
The exhibition will celebrate the 100 year anniversary of the tomb's discovery and the boy king's priceless tomb artefacts will be the centrepiece of the display. It will be the last opportunity to see the items before they are taken to their final resting place in the Grand Egyptian Museum in Cairo in 2022.
It will remain in London until May 2020 and will transport visitors to Ancient Egypt where they will "accompany Tutankhamun on his journey to the afterlife and quest for immortality".
Tutankhamun: Treasures of the Golden Pharaoh
Over 150 authentic tomb objects, 60 on display outside Egypt for the first time, will showcase the artistry of Tutankhamun's 3,300-year-old treasure and visitors of all ages are welcome to attend the exhibition.
This will be what is said to be the largest Tutankhamun exhibition ever with the most objects and the most masterpieces on display, and provides the final opportunity to experience the magic and mystery of Tutankhamun before his treasures return to Egypt.
The London venue will be the third stop on the exhibition's tour, which will include ten worldwide cities including Los Angeles and Paris.
Group tickets to the exhibition are available and tour operators including Shearings will be offering group packages.
About Tutankhamun
Tutankhamun was an Egyptian pharoah who is believed to have died in 1323 BC. His death has remained a mystery for thousands of years and mysteries surrounding the discovery of his tomb also surfaced in 1922. The young king died when he was just 19.
The tomb of Tutankhamun was unearthed in 1922 by British explorer Howard Carter and Lord Carnavon. Fascination surrounding the tomb was due to it being the only Ancient Egyptian royal tomb to be discovered intact.
For more information, visit www.tutankhamun-london.com