The National Memorial Arboretum in Staffordshire has opened a free exhibition featuring frontline sketches of the Falklands War by Linda Kitson, who was appointed as the official war artist to document from the battlefield.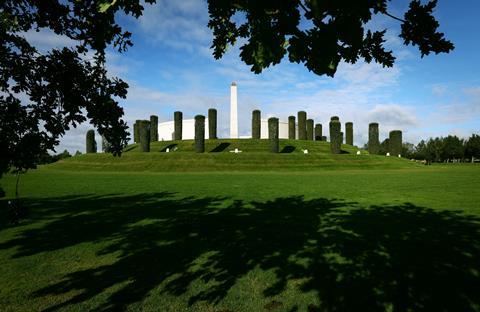 As the first official female war artist, Kitson served alongside frontline personnel, documenting the conflict through a series of vivid drawings sketched in the heart of the action.
Originally planning to travel only to Ascension Island in the middle of the Atlantic, which served as a staging point for the British Armed Forces, the artist instead chose to join personnel as they sought to retake the Falklands, eager to record what was happening on the frontline.
Linda Kitson said: "I look back at these drawings from so long ago and can still feel the sub-zero temperatures.
"These drawings are exactly as they came from 'the field', which is a very different thing from a highly polished piece finalised in a studio. Not only were my fingers frozen, but I only had anything from two to twenty minutes for each picture; we were continually on the move."
Running at the National Memorial Arboretum in Alrewas until 19th June, the attraction is home to several memorials connected with the Falklands conflict.
Producing history
Skilled in working at speed and experienced in reportage illustration, Kitson was able to produce around six drawings a day, and hundreds by the end of her posting.
Her works used ink, pencil and Conté crayon to capture scenes from the flight deck to the frontline, often sketched in harsh conditions and sometimes under threat of danger.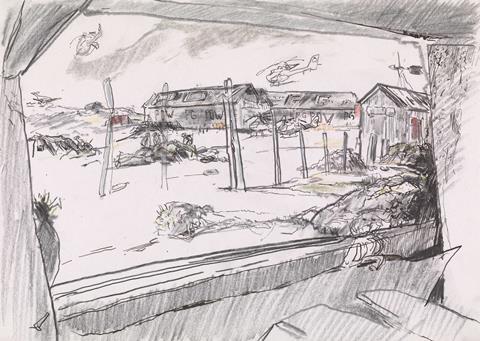 Kitson continued: "I am so pleased that forty years after the Falklands conflict you are able to see my drawings once again."
"Time may alter the experience of poignant memories but it doesn't take them away. In our busy world to be able to come to this beautiful arboretum must surely offer a perfect sanctuary for remembrance."
On 2nd April 1982, Argentine troops invaded the Falkland Islands, provoking a war in which more than 900 people lost their lives.
Britain had ruled over the islands for more than a century, but Argentina believed that the territory was rightfully theirs. When Argentina attempted to reclaim the Falklands by force, Britain set out to defend them and retained control after 74 days of fighting.
Falklands 40: Sketches from the Frontline by Linda Kitson is a free exhibition at the National Memorial Arboretum, running until 19th June 2022. Pre-booking via the Arboretum website is recommended to guarantee entry, with groups able to ring 01283 245100 or email groups@thenma.org.uk for more details. More information about the exhibition is available at www.thenma.org.uk.