He's danced on ice, tricked the stars and now Ben Hanlin will be hosting the Group Leisure & Travel Awards ceremony on 7th October along with GLT publisher, Rob Yandell.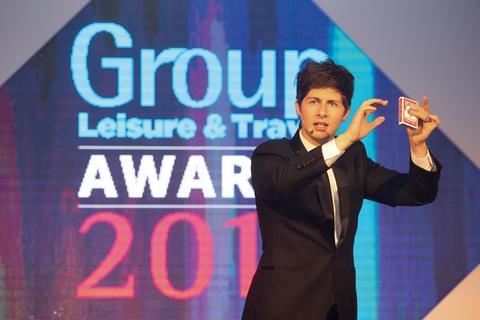 The awards ceremony will be broadcast through the Group Leisure & Travel website from a custom studio as we reveal the 2020 winners, as voted for by our readers.
In order to sprinkle some magic and add some fun, we have invited Ben Hanlin back to help present the ceremony.
Ben Hanlin is a British magician and television presenter, best known for presenting ITV2's award-winning series Tricked, and for countless TV and stage appearances, including the 2020 series of Dancing on Ice, and at the Edinburgh Fringe.
He helped host the Group Leisure & Travel Awards in 2017.
Ben Hanlin, from 'Magic Boy' to Dancing on Ice
Ben has been performing close-up magic for nearly 20 years, and has what's described as a 'devilishly quick' sleight of hand that has amazed audiences with magic that often involves a deck of cards, mobile phones and other everyday objects.
Ben's career saw him rise to fame as 'Magic Boy' on YouTube, where his series of magic-themed videos have had over 900,000 views. He's starred in the touring show The Illusionists, and has appeared on ITV1's Live at the Palladium.
In addition, Ben has enjoyed television appearances on Celebrity Juice, BBC Breakfast, This Morning, Good Morning Britain, and Soccer AM.
Group Leisure & Travel publisher, Rob Yandell said: "We had so much fun when Ben helped host our awards ceremony in 2017, and we're delighted he is able to join us again. The ceremony may be different this year, and we will miss the physical event, but we're going to produce an online ceremony broadcast we hope people enjoy and that celebrates the attractions, companies and experiences that make group travel so special.
"Our amazing Awards Partners will announce our winners and Ben promises to have a few surprises in store. Make sure you join us."
Thank you to our official Awards Partners…