World Wildlife Day on 3rd March is a good excuse to remind ourselves what can be found throughout the countryside and along the coast of England. They are home to some of the world's most amazing animals and you don't always need to go far or put on virtual reality goggles to have a close encounter.

Here's just a handful of England's most fascinating wildlife locations and experiences to help inspire you to plan something really wild for your group.
See the seals, whales and sharks as they bask along the coastline
Britain is home to around 40% of the world's grey seal population, and one of the best places to see them is at Lincolnshire's Donna Nook National Nature Reserve, covering more than ten kilometres of coast between Grainthorpe Haven and Saltfleet.
The best time to witness them is in November and December when the seals give birth to their pups. The designated viewing areas at the foot of the sand dunes offer the perfect vantage point to spot the fluffy white pups from a safe distance.
Blakeney Point, a nature reserve run by the National Trust, is home to common and grey seals with over 3,000 pups born each year. Take a Beans Boat trip and get the chance to watch the seals in their natural habitat. On seeing the seals you will land on Blakeney Point, a popular breeding ground for migrant birds like sandwich and Arctic terns.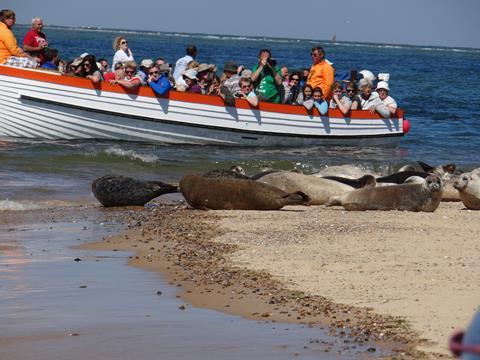 Boats normally run seven days a week April to October inclusive, and throughout the winter. Trip times vary with tides and group discounts are available.
Spot dolphins off the south coast
At least seven species of dolphin swim the waters around the UK and England's south coast is home to the white-beaked variety. These dolphins are well-known for putting on a show, performing their flips, jumps and dives, and getting friendly with the local boats.
You can join St Ives Boat Services on their Four Seasons pleasure boat, with a tour giving groups the chance to get as close up as possible to pods of common and bottlenose dolphins. Very often, they will even accompany you as you make your way along the coast. Private charters for exclusive group bookings can be arranged.
Whale watching, North Yorkshire coast
Once known for its whaling fleet, Whitby is now thankfully becoming famous for its whale watching. In summer minke whales appear, following the mackerel shoals.
These fantastic mammals are the most regularly seen large cetacean along the coast and harbour porpoise can be seen throughout the year and on most whale watching trips. Bottle-nosed and white-beaked dolphins are also now being seen every year on the coast in increasing numbers.
Bird watching on land and at sea
Puffins (or as the locals like to call them 'Tommy Noddy') gather in their tens of thousands on Northumberland's Farne Islands between April and July to breed and nest.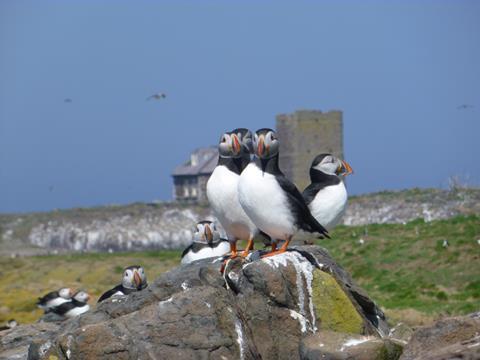 A full day trip on one of Billy Shiel's Boats will allow you the chance to appreciate the wonder of these beautiful species and their comical gait.
Sailing along Inner Farne and Staple Island you'll not only get the chance to see the puffins as they nest and search for food but over 20 other species of breeding seabirds, including guillemots, razorbills and eider ducks.
The new Rye Harbour Discovery Centre in Sussex is due to launch in April with the aim of transforming the way visitors engage with the natural and cultural heritage of the reserve.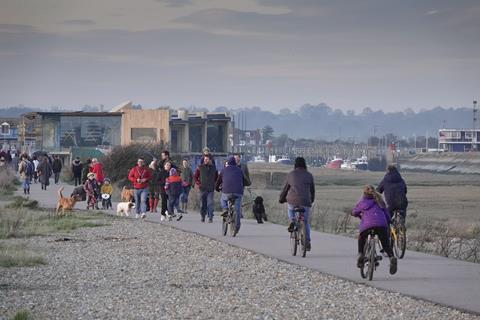 Offering a programme of activities, education, training and conservation projects, the 1,110 acre reserve is one of the most biodiverse places in Britain with 4,200 plant and animal species recorded, including over 200 rare or endangered birds and mammals. It is also home to a range of historic buildings, among them Henry VIII's Camber Castle and the Mary Stanford Lifeboat House.
An independent nature reserve, Elmley Nature Reserve in Kent is a working family farm and a SSSI Special Protected Area for birds and Ramsar (wetland of world importance).
The reserve, based on an island, spans 3,300 acres and is home to a huge number of rare and endangered species and is particularly important for breeding wadering birds and over-wintering birds.
Elmley is said to be England's only natural nature reserve you can stay the night in, with a farmhouse available for exclusive hire, offering a range of experiences and a memorable chance to reconnect with nature.
To the countryside, forests and estates for a spot of dry land wildlife watching…
Lyme Park is found on the edge of the Peak District in Cheshire and is not only the home of Pride and Prejudice but an array of wildlife from migrating Scandinavian birds to fairytale-like fungus, with its star players being its resident red deer.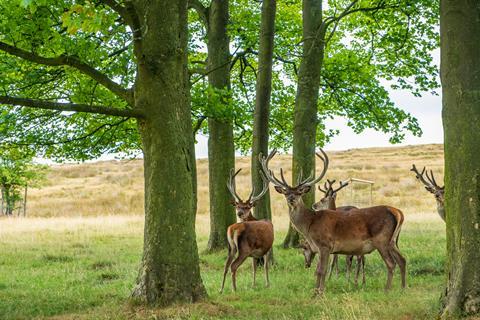 Deer have been at Lyme Park for over 600 years and continue to play a pivotal role on the estate. Designated walks take you around the grounds where you are almost guaranteed to see a deer or two wandering about or grazing.
While we're accustomed to seeing grey squirrels almost everywhere, our native red squirrels are a rare sight. Pushed out of the country by the introduction of American grey squirrels, there are only a few places left in England where these rusty-red squirrels can survive.
To see them visit Formby, Merseyside and take the designated National Trust Red Squirrel Walking Trail where you will catch a glimpse of them feasting on hazelnuts and pine cones.
Home to 24 species, Wicken Fen is one of the best places in the country to see dragonflies and the National Trust's oldest nature reserve.
On warm, sunny days, huge numbers make an appearance, performing aerobatics and flying along the waterways and ditches. The nature reserve even has a Dragonfly Centre, complete with colourful displays and two dipping ponds, as well as experts on hand to help you find out more.
You are advised to always check individual websites for the latest information, as events and openings are subject to change. National restrictions are currently in place and attractions are closed. You can visit visitengland.com for the latest guidance.
This list of ideas was compiled by VisitEngland. For more ideas and inspiration click to visitengland.com/escape.