Launched in the summer, visitors brave enough to tackle the Walk 360 experience will walk on the glass pod roof of the viewing tower, 450ft in the air to get a completely new perspective overlooking the city.
Sam Ryder said that he chose to perform his new track here, along with two other musicians playing guitar and the Cajon percussive drum, because he "loves to push boundaries and do exciting things."
"To be the first person to actually perform on the pod roof above the iconic Brighton beach, it doesn't get better than that."

Sam Ryder
The video shows Sam strutting across the roof, performing the tune with beautiful coastal views across Brighton and beyond as the backdrop. This is something groups can experience together when booking the Walk 360 offer.
Sam's single Space Man earned him second place at the 2022 Eurovision Song Contest in Turin, Italy. He also performed the hit at Queen Elizabeth II's Platinum Jubilee concert in London. It is now one of the biggest selling tracks of the year.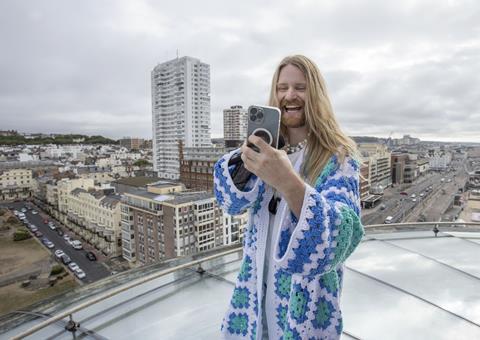 Walk 360 for groups
'Passengers' will board the giant glass viewing pod and glide slowly to 450ft above Brighton beach, and once at full height, an instructor leads the group to the ladder which is set between the pod and the tower.
Each person is then clipped onto a safety system to climb a short ladder before being secured by their harness to the safety rail system on top of the pod.
Visitors will then step on the top of pod at 138 metres high for an open-air, 360-degree walk around the viewing tower, giving everyone the chance to see the coastal and city views.
Back at ground level, groups can also visit the exhibition about how the i360 was constructed before heading into West Beach restaurant for a meal with sea views.
Those who'd prefer to experience the views from within the pod can still do so as a group, holding up to 175 people.
For Brighton i360 group booking details and more information, click here.