We were among the first to step on board Scarlet Lady, the 17-deck yacht-inspired cruise ship that hopes to reinvent the experience of cruising - or more accurately, introduce cruising of a different kind.
"Imagine all the wonderful things you'd see in some of the great boutique lifestyle hotels around the world", said Virgin Voyages' chief experience officer during a very casual press conference in The Manor, one of Scarlet Lady's on board nightclubs. And the "proof in the pudding is in the ship itself", as Sir Richard Branson went on to say.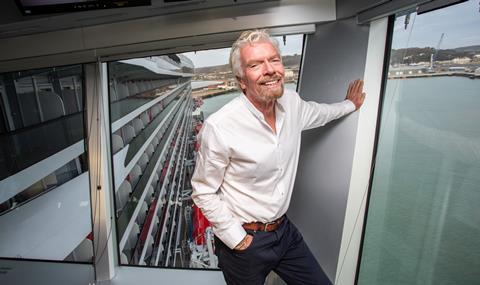 The target audience of Virgin's new venture into cruising couldn't be clearer when exploring the 17-deck ship, which has been minimally decorated in a bright, modern style that seems right at home on fashion influencers' Instagram feeds. It's a beautiful feat, designed to have luxurious "touches of yacht". As you walk through Deck 6's sleek foyer, you might happen on a dj booth bringing the party to passengers as soon as they step on board; on the way to The Manor for a drink, you'll see Squid Ink, the world's first tattoo parlour at sea; and if you venture outside on Deck 15, you might spot the Aquatic Club Bar, a jacuzzi, and swing seats where you can relax and look out at the ocean. There are even plans for a 'Shake for Champagne' feature on the Virgin Voyages app which will allow guests to literally shake their phone in order to summon a waiter with a glass of bubbly.
Passengers will find a different emphasis on wellbeing and cardio than on other cruise ships - rather than multiple swimming pools, Scarlet Lady sports a running track that loops around the deck and an outdoor boxing ring. There are no dining halls, buffets or dress codes - instead, world cuisine is presented in distinctly designed restaurants, each with a unique feel and theme. Plus there isn't any allocated seating or set dining times. This means that there's a huge amount of variety; guests can enjoy a standalone dining experience and expect a different atmosphere and offering depending on where they choose to go.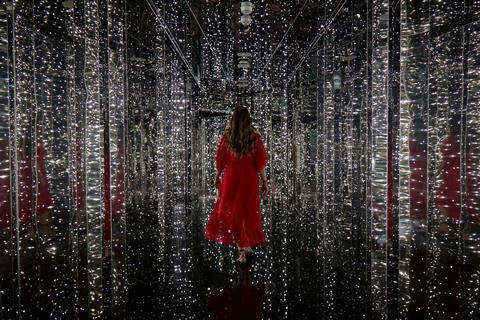 Experiential dining
I spent the evening at Gunbae on Deck 15, described as a 'lively Korean barbeque restaurant' that saw six of us sitting around a hot plate ready to cook our choice of meat selected from the unusual menu. While luxury and exclusivity are undeniably in the air on board Scarlet Lady, this particular restaurant seems a place where you could get to know other passengers while enjoying a communal dining experience. Also, the food was incredible, as were the staff who served it - a few friendly faces became familiar after just one night on board, immediately making the experience feel welcoming.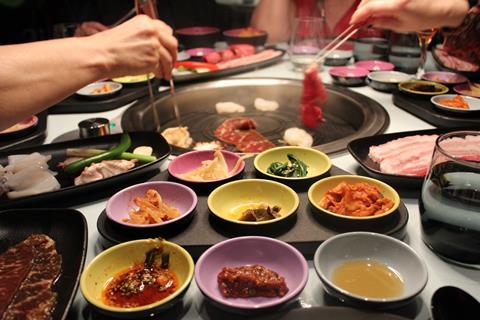 Breakfast was spent in Deck 5's Razzle Dazzle, one space I was keen to visit after discovering it has an entirely vegetarian menu. The restaurant alone would be at home in an interior design magazine, emphasised through the food; when the waiter set my 'Avo Toast' down with a flourish, telling me "it's very Instagrammable."
These are two out of 20+ eateries on board that are included in the ticket fare. From what I saw, The Galley is a great option for groups from what I saw. Designed like a food court, it has a casual setup of booth seating and smaller tables with various outlets serving tacos, all-day breakfast, ramen and plenty more, plus a coffee shop that provides a frothier fix than that found at the complimentary coffee and tea stations.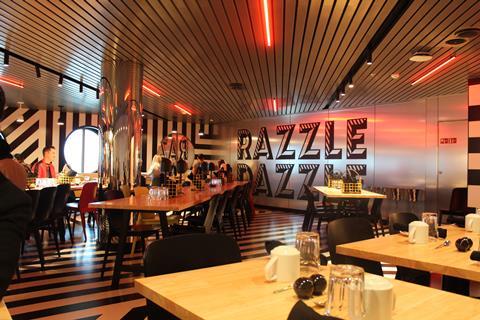 'Set Sail the Virgin Way'
Another point of emphasis from Virgin - as well as working out "all the things we don't like about other people's cruise ships", and doing the opposite - is the importance of the crew. According to CEO Tom McAlpin, the crew uniform (a casual white T-shirt with a splash of signature Virgin red) was designed to feel more like comfortable yacht-wear than formal cruisewear.
With green travel being at the forefront of many conversations about cruise ships, Virgin is also keen to highlight how it's "doing the right thing for the environment now" through carbon offsets, less food waste thanks to no buffet-style dining and Climeon technology, which uses the heat from Scarlet Lady's engines to generate its electricity.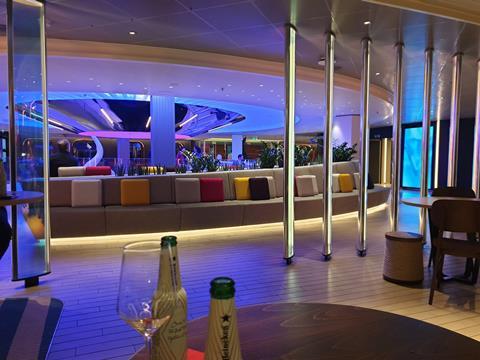 For the influencer generation
So, what kind of people will make up the 2,700 passengers voyaging on Scarlet Lady? The experiential cruise is tapping into a demographic who are enticed by the idea of exclusive events, highly aesthetic spaces and ultimately, a party experience. One member of staff encouraged me to stay up late (I didn't take much persuading), promising that I wouldn't want to miss the ship's nightlife - and she was happy to say I told you so when we bumped into each other several hours later on the dancefloor of The Manor.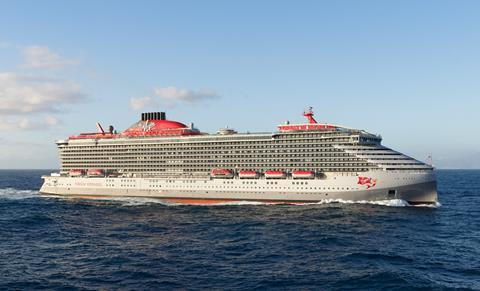 While exploring after dark, you might spot glamorous individuals who look as though they've just walked off stage whose role is - as far as I could tell - to move around the ship, hosts that encourage people in to different spaces and venues. It's how I found out about Untitled Dance Show Party Thing, a… performance? Club night? that took place in the Red Room, where incredible performers hosted an hour of intense dance music featuring a digital talking cat and flashing images of coffee percolators. There was a man dressed in a swan costume, too. Bizarre isn't the word.
"The Red Room transforms into three different configurations throughout the cruise"

Tom McAlpin, CEO and president of Virgin Voyages
It's experiences like this that make Scarlet Lady feel like a journey into something extra special - and if you're adventurous, energetic and are after something very different, it's one you won't want to miss.
For groups
Virgin Voyages offers various group incentives for those of ten or more. Groups planning to book at least ten cabins will be classed as a 'Circle', which grants an extra 10% discount as well as bonus Sailor Loot (the on-board currency that can be used in the Casino, Redemption Spa, the bars, and elsewhere). The amount of Sailor Loot will be dependent on the number of and types of cabin that are booked.
Scarlet Lady will be setting sail from its home port of Miami in March, cruising around the Caribbean. For further details, visit www.virginvoyages.com/ship.