Epitomising the British love of gardens, the Royal Horticultural Society has a different show for all interests. Find out which one is most suitable for your members in our handy guide.
RHS Flower Show Cardiff: 17th - 19th April
Best For: Lovers of the great outdoors, wildlife and community spirit; spring-plant enthusiasts, daffodil, gladioli and dahlia admirers.
The first major outdoor show of the season, and celebrating its 15th year in 2020, RHS Flower Show Cardiff is the perfect place to kick-start the gardening year brimming with the colours and scents of spring. Set in Bute Park with the backdrop of Cardiff Castle, the show celebrates a love of the outdoors, creativity and the wonders of spring with plenty of seasonal ideas.
Highlights:
Explore the Visit Wales 'Year of Outdoors' theme at the Show as you find out more about the health and wellbeing benefits of being outside and connecting with the natural world.
Enjoy the exquisite blooms in the giant Floral Marquee, buy plants and get expert advice from the UK's top growers.
Learn more from the RHS Master Grower for Cardiff this year - Pheasant Acre Plants from Bridgend, famous for their amazing gladioli and dahlias.
RHS Chatsworth Flower Show, Chatsworth House, Derbyshire: 11th - 14th June
Best For: Hands-on gardeners, foodies, anyone looking for insider tips and inspiration at the expert talks, nature and wildlife lovers, those looking for a day combining Chatsworth House with the Flower Show.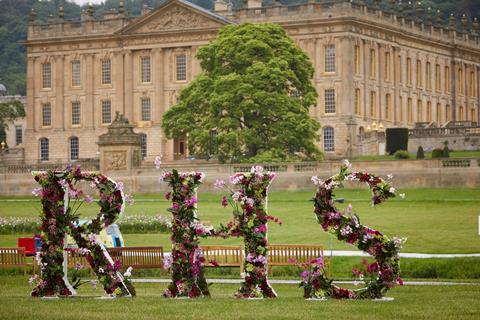 Set in the grounds of Chatsworth House with the opportunity to experience 'Capability' Brown's landscapes, RHS Chatsworth Flower Show promises a fantastic day out for groups. As the RHS' newest show, it combines tradition with exciting and innovative design offering gardening inspiration, spectacular summer colour, have-a-go workshops and shopping.
Highlights:
Contemplate the Mindfulness Gardens, a popular category launched last year to celebrate the benefits of gardens and outdoor spaces for our health and wellbeing.
Make time for some retail therapy, featuring products for the home and garden.
Enjoy a taste of Great British produce in the Great Taste Market where you can buy delicacies direct from local producers and Great Taste Award winners.
RHS festivals coming up
With a stellar guest line-up, including Alan Titchmarsh, two nights of music and thousands of flowers and plants, RHS Malvern Spring Festival celebrates its 35th anniversary this year. Running from 7th until 10th May in Worcestershire, the event is set to entertain guests with two fantastic performances from the English Symphony Orchestra and a special VE Day commemorative concert.
The site will also host its annual autumn event between on 26th & 27th September, featuring plants, celebrities, giant vegetables and cookery workshops.
RHS Hampton Court Palace Garden Festival: 7th - 12th July
Best For: A festival feel on the banks of the River Thames, rose-lovers, foodies, crafty types and those interested in gardening for health, wellbeing and sustainability.
With a selection of thought-provoking gardens, abundance of plants, culinary experiences, workshops and much more, there will be plenty of inspiration for groups visiting this event in 2020. Look forward to a host of exciting talks and workshops, plants people, celebrities and foodies along with a host of artisan shops and small businesses.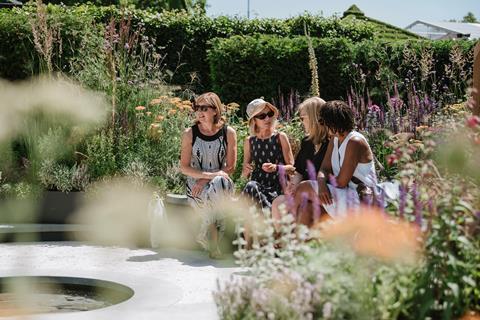 Highlights:
Enjoy show-stopping gardens from award-winning designers, this year's iconic horticultural hero is Tom Stuart-Smith, showcasing a drought tolerant garden.
Celebrate the beauty of roses at the Festival of Roses, featuring a huge array of these gorgeous flowers, you can also enjoy tea in the immersive Rose Garden.
Experience a magical night out and a first look at the show at the Preview Evening (open to all) on 6th July. All the fun of the show, plus live music and a stunning fireworks finale in the shadow of the magnificent Palace.
RHS Flower Show Tatton Park, Cheshire: 22nd - 26th July
Best for: The young at heart, those happy to try their hand at a new skill and try workshops, allotment enthusiasts, floristry lovers, those interested in the healing power of plants.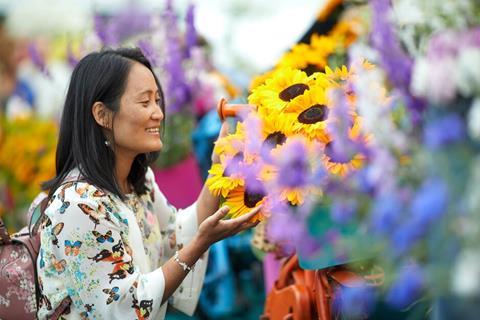 Championing youth in horticulture, new talent and design is at the heart of RHS Tatton Park which for a brilliant summer's day out. Along with vibrant floral displays and the popular 'Back to Back' gardens , there are have-a-go workshops and an impressive schedule of plant experts, foodies and gardeners giving talks.

Highlights:
Immerse yourself in flower power and be wowed by colourful inspiration in the healing RHS Flower Power Garden and a dazzling rainbow Pride planting.
Be inspired by the future stars of garden design as they battle it out to triumph in the Young Designer of the Year Competition.
Make the most of Dig-In Live with great demonstrations on grow-your-own as well as the RHS Summer Fruit & Vegetable Competition and Edible Allotments.
There are group rates available for all of the shows featured as well as other RHS events throughout the year. Visit www.rhs.org.uk/groups for more information and bookings.