160 steps beneath the hectic Strand and neighbouring Covent Garden, we discovered forgotten stories of London's Underground.
I couldn't help but think of Neil Gaiman's Neverwhere, a fantasy story about a secret realm beneath London, as I stepped through an unassuming doorway on Surrey Street, tucked away beside Somerset House. It wouldn't be wrong to say it was a step back in time – you immediately notice old-fashioned posters and signs in Aldwych Station's hallway, advertising train trips to Sevenoaks and calling for women workers during wartime.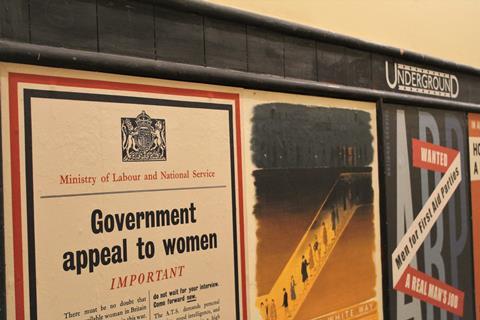 The London Transport Museum is making use of disused stations like Aldwych through Hidden London, its programme of underground tours, and it's a smart idea. The whole experience feels very authentic - the only evidence that the space has been "jazzed up" for the public is the occasional photo board, providing a visual to accompany the guide's stories. The details of interest were already there, an untapped historical resource.
After walking through the original 1906 Otis lifts into the booking hall, around 20 of us were introduced to a brief history of Aldwych, and why its façade looks like that of South Kensington, Covent Garden and Leicester Square – because these were all designed by the same person: Leslie Green. His brief was 50 designs for 50 stations, and he came back with one. Not laziness - rather, a stroke of genius. With none of the recognisable logos or fonts to unify the underground network (like we have today), Leslie Green used uniform design to pull these stations together, with Aldwych being the best preserved example from the early 20th century.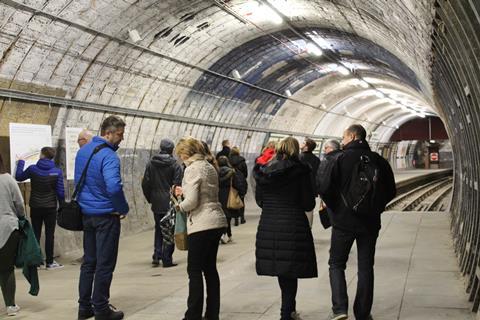 After the history talk, we were eager to make our way into the tunnels. 160-plus winding steps took us into the belly of the station (and made me slightly dread the walk up - Aldwych isn't a leisurely tour). Our next discovery was six lift shafts that were dug by hand, only two of which were ever used – there simply wasn't the demand at Aldwych, 'a twig at the end of a branch' of the Piccadilly Line. The remains are quite eerie: huge chambers stretching out into the dark. Speaking of eerie, we were told that one of Atonement's climactic scenes was filmed inside the station… if you know, you know.
Each stop along the way came with a short talk from the guide, sharing tidbits about the station's history – some understandable, others unexpected. For example, in 2012 the emergency services simulated a terrorist attack down in the tunnels as a training exercise for the London Olympics. Our tour guide, who described herself as a train enthusiast as well as a history buff, was accompanied by a team of two whose sole responsibility seemed to be ensuring the group didn't wander off. The result was a relaxed, casual experience that allowed people to explore each area at their own pace.
Shelter for Londoners
As we walked to the main platform we were met with the sound of sirens, recalling the London Underground's major role in the 1900s - as a place of refuge during wartime bombings. For this, the organisers didn't have to do much to bring history to life; what's more impactful than seeing the space itself where thousands of civilians crowded (on rails as well as the platform) to try and sleep through air raids?
A thought-provoking touch was an audio session featuring an interview with Julian Andrews, a man who did just that during the winter of 1940:
"We had not appreciated that a great many people were regularly sheltering there, and indeed they had been queuing up since the afternoon. Aldwych was very dim indeed and the air was thick; and it was muggy, with quite a smell – hundreds and hundreds of bodies wrapped in blankets. It was a heavy silence down there; pretty depressing, pretty gloomy."
Design curiosities
Visitors to Aldwych can expect to hear a fair bit about… tiles. Don't worry, it's not as dry as it sounds, especially when you find out about their clever purpose. Here's a hint: how were passengers supposed to figure out which station they needed in the early 1900s if they couldn't read? Or… if they were colour blind?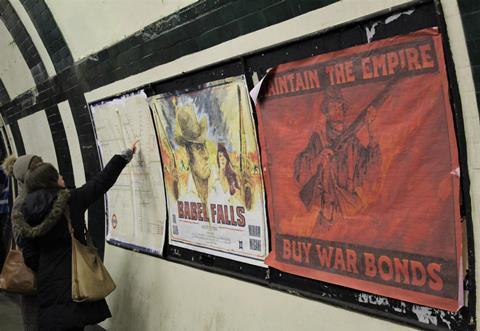 Design is a big part of Aldwych Station as well as function. Probably the highlight of the tour was seeing vintage posters from various decades, leftover from designers testing out new 'looks' and aesthetics for other stations.
Fun facts:
The original 1906 Otis lifts are the last two left anywhere on the network.
One of the empty lift shafts appears in the music video of The Prodigy's Firestarter.
Filming took place here for the 2017 film Darkest Hour, about Sir Winston Churchill.
The National Gallery stored treasures here for safety during World War One.
Aldwych Station contains the oldest piece of track on the network.
Aldwych's story is quite a sad one, really; it was constructed by hand at enormous effort, with the kind of design details that seem incredibly ahead of their time, yet never received enough passengers to keep it afloat, finally shutting down in 1994. Yet the opportunity to tread its tunnels again thanks to Hidden London allows us to appreciate its story, which spans way beyond that of a stop on the Piccadilly Line.
Groups can book a tour of Aldwych Station and many other locations - find out more at ltmuseum.co.uk/hidden-london. All tickets include a 10% discount at the museum shop.