From Buddhist ceremonies to stunning scenery, Jeannine Williamson finds out why Laos should be on your river cruise agenda.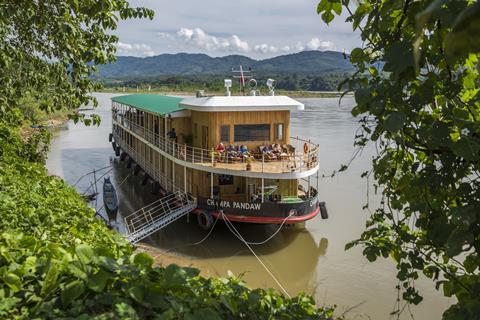 I hold out my arms in the warm evening air while numerous white cotton threads are knotted around my wrists by one of the delightful dancers who have come aboard Champa Pandaw to herald the start of our cruise. As she smiles and quietly whispers blessings I am given a tot of the fiery local spirit lao-lao to down in one and invited to nibble on sweet delicacies.
It is all part of the baci ceremony that has been practised by Laotians since pre-Buddhist times in order to control the 32 lively spirits believed to look after different parts of the body and who are prone to wandering; resulting in illnesses. A world away from touristy 'folkloric' performances I've sat through on some trips, this poignant and totally authentic experience sets the scene for our trip down the Upper Mekong in southeast Asia.
The small landlocked country with a population of less than seven million is little-known compared with neighbouring Thailand, Cambodia, Vietnam, China and even newly emerging Myanmar. Yet for groups that make the effort to find it, Laos is a beguiling destination. A French colony from 1893 to 1953, communist forces overthrew the monarchy in 1975 prompting years of isolation. Nowadays is one of Asia's most peaceful nations, with small culture-rich cities and isolated rural villages where time stands still.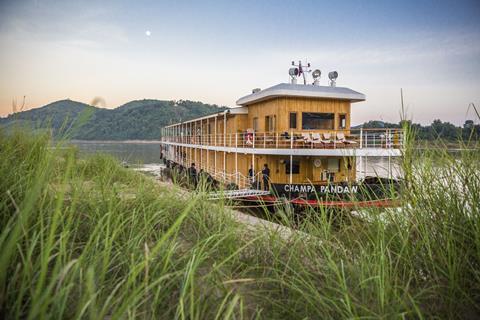 A river cruise is a wonderful way to travel in comfort whilst embarking on an adventurous voyage of discovery. Unlike the languid lower stretches of the 2,700-mile Mekong, more of its volume flows through Laos than any other country, and our downstream journey from Thailand's Golden Triangle on the border of Laos and Myanmar to the tiny Laotian capital of Vientiane was punctuated by rushing torrents.
Each morning our captain put out flowers, fruit and juice as an offering to the gods to safeguard Champa Pandaw, the passengers and crew. We certainly always felt secure, even in the stretches where he skilfully navigated the nimble vessel through a narrow channel flanked by large granite rocks.
Set against a backdrop of jade conical mountains and steep jungle landscapes running down to the riverbanks, we'd sometimes wake up to an ethereal mist hanging low over the water. Some days it was so thick the captain would delay our departure time. On others the fast-flowing river would hasten our scheduled itinerary, prompting unplanned stops at villages that had only been visited by the ship a couple of times before and sometimes not at all.
These rural walks provided totally unexpected highlights that we could never have predicted. We met ever-smiling members of some of the country's 49 ethnic groups including the Khmu and Hmong, learning how some make a living from fishing while others hunt on land. Giggling youngsters, many clad incongruously in football strips or Batman and superhero outfits, followed alongside as our guide Vieng led us through streets lined with oxen, goats, pigs and cockerels. We were invited to join celebrations marking the parallels of life; one day the birth of a baby, the next a funeral with an ornate gilded coffin and more glasses of lao-lao handed out to our group. Another afternoon an 80-year-old man, who'd outlived six wives and told Vieng he was hoping for another, came out to play the khene, a traditional bamboo woodwind instrument.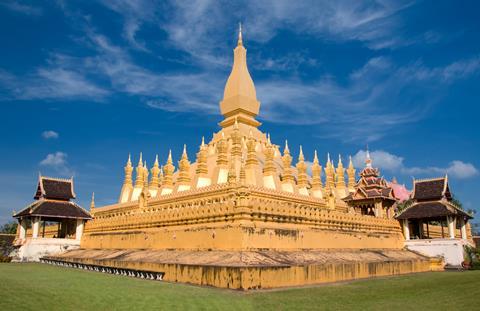 It was impossible not to be drawn in by the deep spirituality of these gentle Laotian people. In charming Luang Prabang, former capital of Laos and a UNESCO World Heritage city, we climbed 300 steps to the golden stupa, a Buddhist monument at the top of Mount Phousi. Drawing breath along the way we paused to admire the dozens of Buddha statues lining the route, including the 'footprint' of Buddha in a cave. That afternoon some of us tackled the shaky bamboo bridge that provides a close-up view of the confluence of the Nam Khan and Mekong. The makeshift crossing is washed away each year when the rivers flood and rebuilt within a week of the waters subsiding.
Setting alarms for 5am the following day it was well worth the early wake up to witness the daily alms offering where locals and visitors donate food to the saffron-robed monks who leave their temples to silently walk through the main streets.
Each day brought very different experiences. One afternoon we strolled around the tranquil Kuang Si Butterfly Park which is run by two Dutch conservationists and home to hundreds of beautiful free flying butterflies. In the capital Vientiane we visited Wat Sisaket, built in 1818 and the capital's oldest surviving temple. Filled with nearly 7,000 Buddha images made from wood, stone and bronze it was fascinating to learn how they sit or stand in 45 different positions which all depict different symbolic meanings. That evening we embarked on an exciting tuk-tuk ride to visit the night market and pick up inexpensive scarves, fun bags made from coconut shells and other souvenirs before heading back to Champa Pandaw.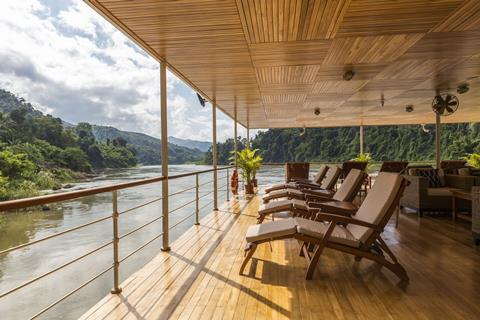 With its burnished teak decks and wood-panelled cabins the 28-passenger ship run by the pioneering Pandaw line, founded by Scottish historian and adventurer Paul Strachan, had carried us in style. Nothing was too much trouble for the cheerful crew members from Laos and Thailand who variously helped us negotiate muddy banks, cleaned our shoes after excursions and poured restorative gin and tonics. Meals, heralded by a gong, were eagerly awaited and showcased Laotian dishes delicately flavoured with fresh herbs and spices.
All too soon the burnished setting sun was mirrored on the Mekong for the last time and over a final cocktail we too reflect on our amazing cruise through timeless landscapes in a tiny country that is big on culture-rich sights and experiences.
At the baci ritual we had been told to keep on the cotton strings for at least three days for them to quell the spirits. But I flew home with them intact in order to keep the memories of Laos alive for a little longer.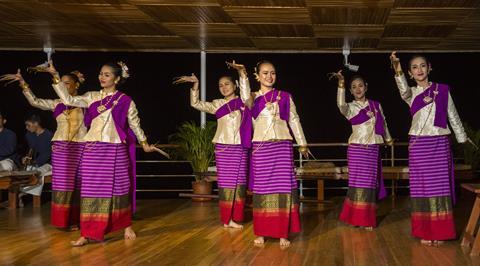 Book it
Pandaw offers a 10-night Laos itinerary from Chiang Sean to Vientiane, or in reverse. Fares include all excursions, on board meals, mineral water, tea, coffee and tips for the crew and airport or hotel transfers to and from the ship. Vessels can also be individually chartered for groups and new pre-bookable wine and drinks packages are available to help with budgeting.
Contact details
Pandaw:
0208-396 7320
www.pandaw.com