Age is just a number in this Indian adventure, where the big-name line-up of pensioners take over the Marigold Hotel and show us all how to truly live.
"Adventure before dementia!" shouts Muriel (Marlene Sidaway) as she heads off into the crowded streets of Khempur to explore. As someone who has experienced the loss of a grandmother to this cruel disease, these words had me buckled in, as it's something I think she would have said.
In fact, for me this production felt like going on holiday with grandparents. There's moaning about the heat, morbid remarks about the end being in sight and plenty of anecdotes about better times gone by, but you can't help falling in love with the group. They're imperfectly perfect.
Based on the Sunday Times bestseller which inspired a film, and then this theatre tour, The Best Exotic Marigold Hotel takes audiences on a journey to India with an eclectic group of British retirees as they embark on a new life in the sun. The luxury residence is far from the opulence they were promised, but as their lives begin to intertwine, they are charmed in unexpected and life-changing ways.
Love theatre? Want to be the first to know?
Get our free 'Theatreland Spotlight' email newsletter to receive theatre news, cast information, reviews, interviews and what's best for groups, sent to your inbox.
Find out how

BAFTA and Golden Globe Award winner Hayley Mills leads the cast as Evelyn, who probably sees the biggest character development, shifting from a timid senior citizen who is reluctant to leave the hotel, to a confident woman who forms new friendships and brings the group of retired travellers together. She approaches the part with complete tenderness which is a joy to watch unfold.
This is quite the contrast to Rula Lenska whose take on Madge is vivaciously outspoken. Everyone has that one person in their family like Madge, at one point telling Jean (Eileen Battye) to shut up when gloating about some of the touristy destinations she's visited on the trip, or cursing at Mr Gupta (Tiran Aakel) when he threatens to buy the hotel and turn it into a call centre.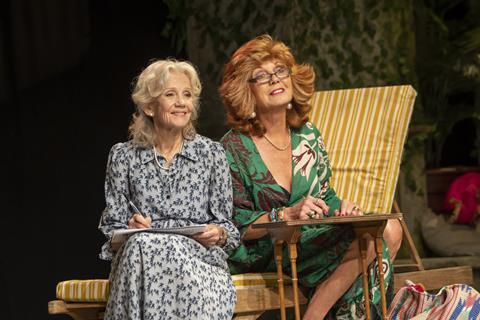 Paul Nicholas' portrayal of Douglas is charming, showing a kind individual who is looking for an excuse to finally speak his mind after years of putting others first - a far cry from the villainous Gavin Sullivan he's known for in EastEnders.
The performance unfolds around one stunning set. Sure, it's grubby in places to show that the hotel has seen better days, but if you look past that, like the characters eventually do, you'll see columns and archways adorned with hanging green foliage.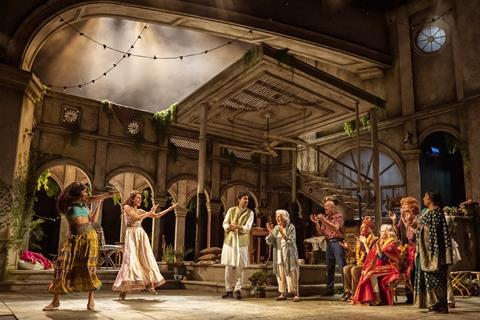 You'll see colourful flowers sprouting from numerous pots dotted around the stage and welcoming fairy lights that twinkle during romantic moments.
The aesthetic illustrates India beautifully, which is matched with traditional music and warm lighting to take the chill out of a cold January night in Milton Keynes.
Life is short (as we're constantly reminded throughout!) but the message still stands strong. Time has that annoying habit of running away from you when you're busy, and watching the penny drop for each character as they wish to have been more outgoing in their youth is a tough but inspiring watch.
"Adventure before dementia" is definitely a phrase my grandmother would have used, which is a nice motto to take away. But for me, it's more about savouring every moment before it's too late - and that's exactly what you do best as group travel organisers.
Harry saw The Best Exotic Marigold Hotel on Wednesday 25th January at Milton Keynes Theatre. The tour currently runs until June.
Group rates are venue specific with more information at marigoldshow.com.

With a love of journalism and travel, Harry enjoys writing about his experiences for GLT readers to use as inspiration. Brighton, Dublin and Amsterdam are among his favourite cities to visit and he enjoys delving into historical sites too – especially those linked to the Tudors and World War Two.