The first ever touring production of Alan Parker's Bugsy Malone is a hit, with the right amount of slapstick to have all ages in hysterics.
Many of you would have seen the 1976 hit movie of the same name by Alan Parker, but if you haven't, maybe give the stage show a try before searching the archives for the much-loved tale.
Its songs are now staples of households across the UK, including So You Wanna Be A Boxer, Fat Sam's Grand Slam and You Give A Little Love, and there's nothing wrong with the film whatsoever, but the live experience seems to have that cutting edge. It's pure escapism.
Set during the prohibition era in New York City, rival gangster bosses Fat Sam and Dandy Dan are in dispute and use custard pies and the iconic 'splurge' gun to fight over who is top dog. Bugsy Malone, a penniless one-time boxer and all-round nice guy, is pulled into the gangster limelight when he becomes the last resort for Fat Sam's clumsy hoodlums.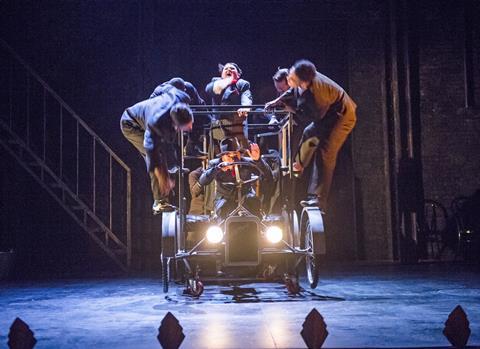 All Bugsy really wants to do is spend time with his new love, Blousey, but different twists and turns keep forcing them apart. The catch of course? All the main characters are played by children imitating adults from a bygone era.
Shaun Sharma, the youngster who played Bugsy Malone during this performance, is tiny – someone could have found him a smaller jacket that fits properly! His love interest Blousey (Delilah Bennet-Cardy) towers over him and is far the more confident of the pair, even more so during Ordinary Fool.
Sharma's squeaky voice and rigid performance will surely develop with age, and you'll be pleased to know it doesn't adversely affect the work of his co-stars.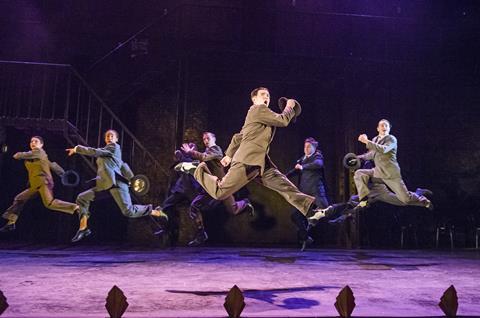 Isham Sankoh's take on Fat Sam is as frantic as you'd expect a paranoid mobster boss to be, especially when he starts losing his henchman during gun bust-ups with rival Dandy Dan (Kit Cranston).
The guns hold creamy-coloured gunge, or 'splurge' as it's more commonly known, rather than bullets and are magnificent, especially during the larger fight scenes when it truly is kids being kids – causing havoc, having fun and ruining their clothes. I couldn't help spare a thought for the poor costume department every time someone was shot; the cleaning bill must be huge!
Marcus Billany is definitely one to watch out for in the future, lapping up the laughter as Knuckles, a member of Fat Sam's gang. His stupidity is instantly likeable, at one point taking an age to answer the door to a potential enemy by crawling while projecting high-pitched squeals of worry. It was as if someone with acrophobia was about to be lowered from the Empire State Building – utterly brilliant.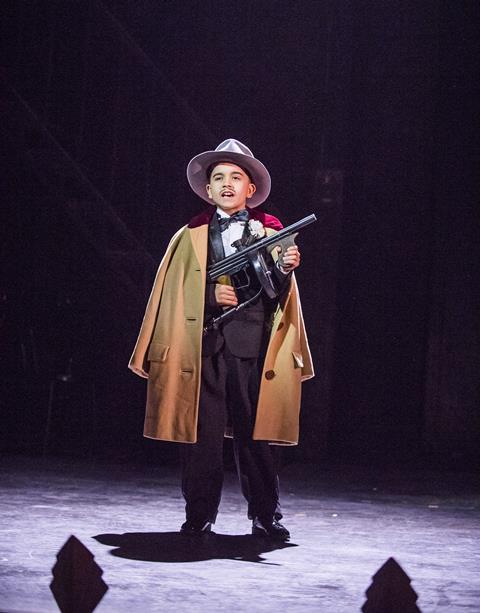 The slick scene changes are faultless, too. Expect neon signs, tables and even punching bags to drop from the ceiling, while the well-synced machine that is the ensemble help slide on pool tables, shop windows and pedal cars. It must be a big trailer taking all this kit on the road.
The reprise of You Give A Little Love affirms the popularity of the story. Visitors rose to their feet to join in with its poignant words "It's been decided, we're weaker divided. Let friendship double up our powers." – I can think of a few people who could learn from this message of unity, can you?
You're in for a treat with this one. Go with an open mind and you'll leave with that feel-good feeling… just watch out for those pesky splurge guns.
We saw Bugsy Malone on Tuesday 11th October at Milton Keynes Theatre. The tour currently runs until 19th February 2023.
Group rates are venue specific, with more information available at bugsymalonethemusical.com.

With a love of journalism and travel, Harry enjoys writing about his experiences for GLT readers to use as inspiration. Brighton, Dublin and Amsterdam are among his favourite cities to visit and he enjoys delving into historical sites too – especially those linked to the Tudors and World War Two.