Sylvia Saxon, chairwoman of the New Meridian Association, reports back on their recent AGM in Gloucester and shares some of the many highlights.
Bournemouth was brilliant, as was Skipton, Yorkshire and Norfolk and now we can add Gloucester to the list. A great time was had by all members on our four-day stay including the AGM. In fact places sold out within a fortnight, which shows how popular The New Meridian association has become.
We stayed in the 4-star Bowden Hall Hotel, which is perfect for groups (although a lift would be helpful for the less able). Service was excellent, as was the food. The rooms were clean and comfortable, well done to Archie Fox, the events manager who co-ordinated our visit.
Our first visit was to the Slimbridge Wildfowl and Wetlands Trust (WWT), a special attraction being the newly opened Peter Scott's home (the founder of Wetlands); it's where he lived for most of his life, developing the WWT. It's a great place for groups to explore 100 acres of beautiful landscape with the opportunity to feed ducks, watch the otters play and take in the amazing views of the Severn estuary. On the first evening before dinner we were treated to a demonstration by award-winning Chelsea florist and historian Katherine Kear, sponsored by Success Tours Ltd.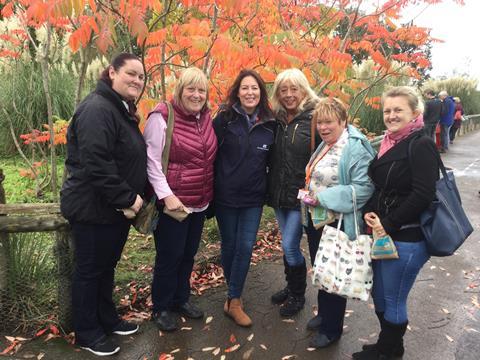 Monday took us to Gloucester Cathedral for a guided tour, where 1,000 years of history awaited us. The magnificent architecture and stained glass windows were a highlight. We were split into smaller groups for a very comprehensive walking tour of the city. As one of our members announced: "I thought I knew the city until today, this place has so much to offer".
We went on to the local brewery for a tour and lunch specialising in Gloucester cheeses with all the trimmings (sponsored by Travel Editions) - nobody went hungry that day. We continued on our merry way (excuse the pun) to The National Waterways Museum and a 45 minute canal boat ride; the heavens opened, but it didn't dampen our spirits. We found the Soldiers of Gloucester Museum very interesting while some members were tempted by the nearby Quays shopping mall. The museum, which is located in Gloucester's historic docks, reopened in April 2004 after a Heritage lottery funded refurbishment. Thanks to Fred. Olsen Cruise Lines for sponsoring the coach for this trip.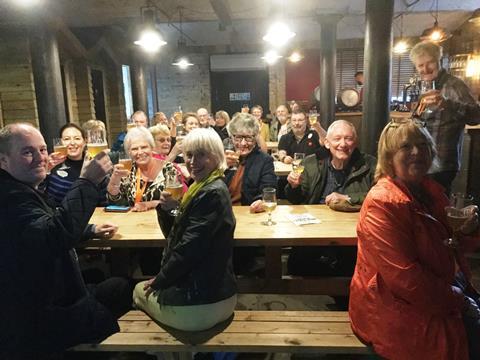 It was off to The Forest of Dean on the Tuesday, first stop tea and cake at The Dean Heritage Centre which we walked off on an underground exploration of the Clearwell Caves (the visit sponsored by Cruise & Maritime). Lunch was in Speech House, a lovely find with a wonderful talk by the owner.
We finished the day with a visit to Highnam Church (kindly sponsored by Sue and Derek of Wooburn Outings). We had a welcome glass of bubbly sponsored by Shakespeare's Globe before our gala dinner. Thanks to Andy at Norman Allen and Geoff and Oli at Isle of Wight Tours for sponsoring the wine. After a lovely dinner with local delegates we once again enjoyed the voice of singer Di James, sponsored by Glen of Wendy Wu Tours. I think everyone ended up on the dance floor, and enjoyed a super evening of entertainment.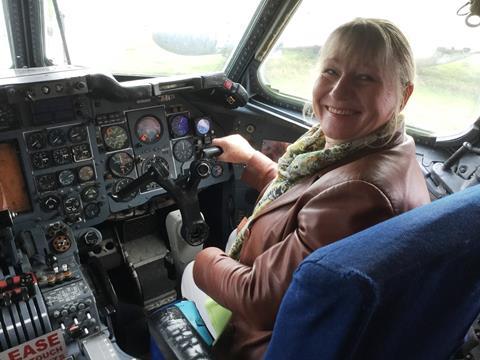 For our last day we enjoyed another gem - the Jet Age Museum which is run by volunteers. Seeing group organiser Lin Wilson in the cockpit of a BEA Jet was a little scary, but if her flying is like her driving, we were in safe hands. Our last visit was to The Nature of Art Museum and Art Gallery with so much to see and another place well worth a visit.
What a wonderful selection of visits, our thanks go to Derek Richardson, Paul and Amanda Barns who all live locally and researched all the visits, spending lots of time and effort putting the four-day itinerary together. I am convinced Gloucester will be a very busy place next year when many of us plan a return visit.
About the New Meridian:
The New Meridian is an association about group organisers, for group organisers. It offers support, ideas, fams and inspiration to GTOs. To find out more, and to become a member visit www.newmeridianorg.uk.