Back in 2009 Jim Godsell won the coveted GTO of the Year Award. Nine years later we find out how his role as an organiser has changed.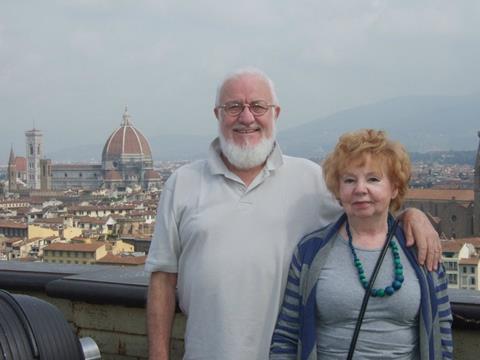 Jim, how have you been since winning the award?
Well I've still been busy organising – probably far too much for an old man (laughs). But we have a lot of fun, that's the main thing!
How many trips do you run each year?
Far too many and I do a range of things. I call them events really because it can be theatres, luncheons, meals and cabarets. But last year I did 19 events.
The interesting thing is, my group is quite unique. It's not a society or a club - they're friends that my wife Denise and I have gathered over the years since being married.
What types of trips do you do?
Denise and I are both in our 80s now and of those 120 or so who normally go on one of our trips I know that 48 are also in their 80s. So, over the years I've done things that will suit elderly people. I won't plan any trips abroad now because of that. But there is so much to do in England to keep us busy.
I keep saying I need to start calming down but here I am booking for 2019.
Have you been to any West End shows recently?
Well we live in Birmingham and we've got two good theatres – the Hippodrome Theatre and the Alexandra Theatre. So, there's shows, musicals, bands, and of course plays and all the arts. And even though I'm not going to London so much these days we did see Lion King again last year, which if you haven't seen it, will blow your socks off. And I'm doing Aladdin this year too.
Are there any British attractions on your bucket list?
I think I've done everything I've wanted to! Some years ago, I went on a fam trip with Group Leisure & Travel and we went on board the SS Great Britain. We went into their first-class dining room and I thought "One of these days I'd love to do a lavish banquet here" and never thought it'd happen but I actually achieved that recently. We took a group and had a lavish banquet on the SS Great British and I don't think many GTOs have done that.
Does your wife Denise help with the organising?
Yes she does. She sort of underlines everything. I am a bit unrealistic sometimes and she brings me back down to earth.
So what advice would you give other GTOs?
Be dedicated and thorough - those are the main qualities. And use all the wonderful things that are at our disposal, like Group Leisure & Travel magazine which has so much information inside.
How did it feel when you picked up the award back in 2009?
It was just a nice recognition and greatly received. It was totally unexpected I must admit. I loved the awards evening. It was really special.
What changes do you see for the group travel industry in the future?
I would like to see the travel industry taking the lead in influencing hotels to realise that they need to reconsider their singles policy. Because more and more people in groups are ageing, so year on year we need more single rooms.
Do you remember the first trip you ever organised?
The first trip I ever organised was back in 1958. I actually took a group on a day trip to London and we saw a show called Things Ain't What They Used To Be. Barbara Windsor was in it and she was only in her 20s then.
Tell us a memorable tale from one of your trips
We went to Alvaston Hall, one of Warners' Adult only hotels. They have events during the day, one of which is Pop Choir. We had such fun with choir practice and had a record number of 110 choristers. The entertainments manager there was so impressed he asked us to perform on the final night of our holiday.
And finally, do you have any words of wisdom for finalists of the GTO of the Year Award this year?
Be Honest. Be thorough. Be Enthusiastic. Be prepared. Prove worthy and aim high.
Jim Godsell at a glance…
Group name: Jim Godsell and Friends
No. of members: 150
Based in: Birmingham
Time organising: 60 years