GLT's Harry Rogers talks nostalgia, elephant puppets and near-disasters with Circus 1903's Ringmaster, David Williamson, ahead of the production's new UK tour.
With only one bar on his mobile, I just about managed to get hold of David, who had found what seemed like the only place with signal in Reno city, in Nevada; the actor-come-magician is currently touring the States in The Illusionist. I'm happy to report we only lost connection once, but it did get me thinking, how on earth does the showman keep a cool head if something goes wrong in his line of work, as it almost did in mine?
Circus 1903 was described by David as a "theatrical circus", encompassing all the highlights from its heyday, including acrobatics, daring stunts and even elephants – puppets of course. The show has enjoyed spells in London before, but this year will visit Birmingham, Salford and Dublin before heading back to the capital for its Christmas season. As Willy Whipsnade, the Ringmaster, David's character's job is to keep everything together, introducing acts and improvising if things go wrong, which they often do.
"We've had a number of injuries before," said David "including our teeterboard act where acrobats and flyers have broken their ankles just before the start of the show and we've had to re-think the opening. Although things can go wrong, we've narrowly avoided full-on disasters."
"I have the scripted role of playing the Ringmaster but also the real role of when things go wrong. I'm the one who has to go out there, kill time and talk to the audiences to get the show back on track."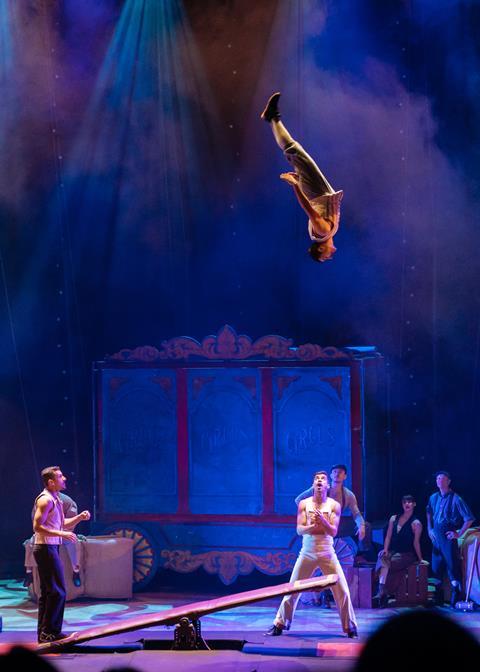 About the show
The performance is split into two acts, with act one taking place 'outside the circus tent', focussing on the lives of the ensemble and their preparation for the show. Audiences are then thrown into the action of a classic 'retro circus' in act two, featuring all the glitzy costumes and daring performances.
David expanded: "You also see a bit of an old fashioned, burlesque side show before the main event, which culminates with a wonderful performance from our contortionist in act one.
"The whole cast then grabs the ropes and raises the tent, providing a really wonderful moment. The show then begins and I present acts, one after the other, as it would have been done in a real circus.
"It's incredible to introduce these performers. It's a beautiful, throwback setting so it's a very romantic, nostalgic look at what the circus used to be."
Enormous elephants
Another element of the show that David was keen to tell me about was the life-like elephant puppets which make an appearance, paying homage to the once real thing that would have performed. Queenie, the mother elephant, is based on the largest African elephant ever recorded and is joined on stage by Peanut, her child.
"Audiences aren't prepared for the emotional response when these elephants first come on stage, it's unbelievable what these puppeteers can do."
"Almost all the puppeteers are former War Horse performers; they're large-scale puppet experts and what they do is simply amazing. Three very strong men sit inside Queenie to move her and then one stands on the outside to manipulate the trunk and perform as the elephant handler.
"One man will then sit inside Peanut, but you can't be in those costumes for longer than ten minutes at a time because they're very bulky and very heavy. In fact, the first model of Queenie had to be recreated as she was too heavy to lift in rehearsals!"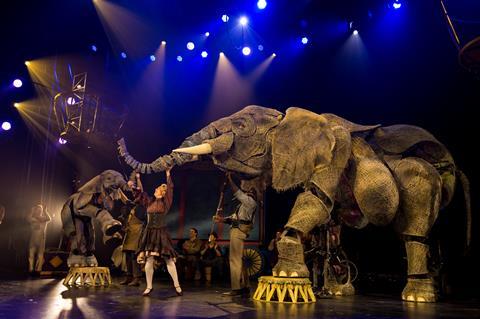 Becoming the Ringmaster
David was offered the role of Willy Whipsnade the Ringmaster three years ago by Circus 1903's producer, Simon Painter. After previously working with Painter in The Illusionist, David was keen to get involved with the idea, even if it seemed far-fetched at first.
"Simon came up to me and said 'I'm planning this big crazy retro circus with elephant puppets', but I instantly thought he was nuts when he first described it to me. But sure enough, he started planning the show and when I was offered the role of the Ringmaster, I jumped at the chance.
"I bring magic and comedy to the role and must keep the show running. The Ringmaster is a combination of John Cleese from Fawlty Towers and Professor Marvel from the Wizard of Oz! He's hopefully loveable and fun, and like your favourite uncle or grandfather."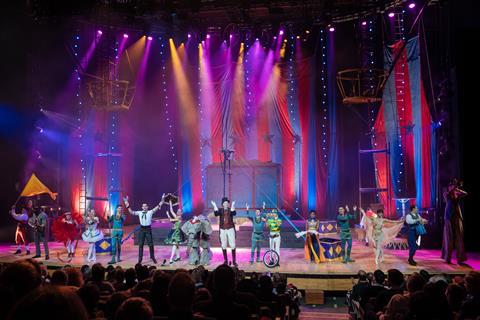 Circus memories
The frontman also admitted that he is "living his childhood dream" when it comes to the role, after wanting to run away with the circus as a youngster when it visited his hometown in Ohio.
"I went down to the circus yard every day for the week they were there, and when they were moving onto the next town, they begged me to join them, but my mother wouldn't let me go."
"I was a young magician and I fell in love with this small troupe. I was ready to pack my bags but, in the end, I didn't do it. Well, look at me now mum!"
The production will begin its run at Birmingham Hippodrome on 25th October until 2nd November. From there, the show travels to Salford Lowry (19th - 24th November), Bord Gáis Energy Theatre, Dublin (27th November - 1st December), before finishing off at Royal Festival Hall, London (19th December 2019 - 5th January 2020).