Laura Sexton speaks to Chris Leask about making people laugh, playing multiple characters and why audiences will love The Comedy About A Bank Robbery.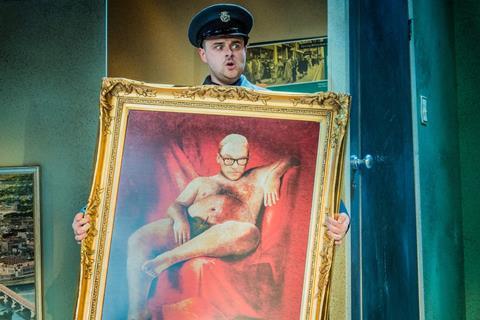 For those who haven't seen the show, how would you describe it?
It's very silly, it's two and a half hours of just madness. We open the show meeting Mitch who is a convict in prison, put away for robbery. We see him break out and he goes to Minneapolis where he decides to steal a diamond from a bank. And the bank owner is his ex-girlfriend's father. So, with the help of his ex-girlfriend and an unfortunate soul called Sam, the three of them go to rob this bank. And it's watching them struggle as they are faced with so many obstacles. It's full of farce and it's a lot of fun.
You play the character of 'Everyone Else'. What can you tell us about it?
Yes, I play lots of different parts but there is an awareness that it's one actor struggling to play all these parts. There's this part in the second half where three of the characters meet and it's watching one character struggle to act out a fight from three parts.
I play a range of roles from a sleeping security guard who's the bank owner's nephew, Prince Ludwig whose diamond it is, and a reporter too – it's very silly, very bold and very over the top. It was very challenging to begin with before taking it on as I'd never done it before. The parts don't always have a lot of lines, so you have about 30 seconds on stage to let the audience know who you are. No two characters can be anywhere similar, especially when you're in a scene playing three characters.
What drew you to the role and what is it you love the most about playing it?
I've worked with Mischief Theatre before, I've done The Play That Goes Wrong and Peter Pan Goes Wrong with them and when they told me about this show, the thing that drew me to it was the chance to play 14 roles. The company itself drew me to it too as they were all my friends before they were my colleagues. They are a very young and hard-working company it's very hard to say no. The process of working with them is one of the most enjoyable things I've ever done.
Is there a lot of improvisation involved?
Yes, originally it was heavily improvised until we locked down a script. There is the freedom in these shows and an awareness and live element, so we can play around and explore new ideas. Also, with shows like this, they are so technically manic, that things do go wrong, and we don't try to cover them up and we don't ignore it. We are very good at just saying "Yeah that went wrong, let's move on!"
Have you always wanted to be involved in comedy?
I've always enjoyed comedy. I feel very comfortable doing it, it's thrilling. Comedy actors always want to have the best joke. I grew up watching Robin Williams and Jim Carey, both of whom I absolutely idolise. And still today I am amazed by the way Robin Williams' brain worked and how unique and wonderful it was. Audiences could have had the worse day and they come in to see the show and laugh. And it's your job to make them laugh, and there is no nicer feeling than that.
The show has just been extended into 2019, why do you think the show has been so popular with audiences?
The way Mischief works; because it is a young company of young actors, there is fresh energy on stage. The Play That Goes Wrong was a very new idea, whereas with The Comedy About A Bank Robbery, it's similar to some existing farces but it's got a very young, fresh take on things, so it's not the traditional farce. There is one show stopping moment, where things are a bit acrobatic and it changes the perspective of the show and blows audiences away. Often with theatre there are some really bold ideas which are often turned away and told they can't be done. But the guys with this show have managed to pull them off.
Can you sum the show up in three words?
Hilarious. Energetic. Fast.
Besides acting and making people laugh, what do you enjoy doing?
I go to the gym a lot and I really enjoy cycling. Some of the other cast members have taken up golf which is really fun. And when I get some holiday I really, really want to go travelling. As an actor you rarely get the opportunity.
I really want to go to Australia for a few weeks. I've had a few mates who have gone out to Australia and have said they've had an amazing time. I'd like to visit South America too.
The Comedy About A Bank Robbery is currently playing at the Criterion Theatre where it is currently booking until April 2019. Group rates are available. For more details visit www.thecomedyaboutabankrobbery.com.