GLT's Harry Rogers reports back from his trip to see The Churchill Exhibition and The Stables Exhibition at Oxfordshire's Blenheim Palace, which includes a specially commissioned waxwork of the former Prime Minister.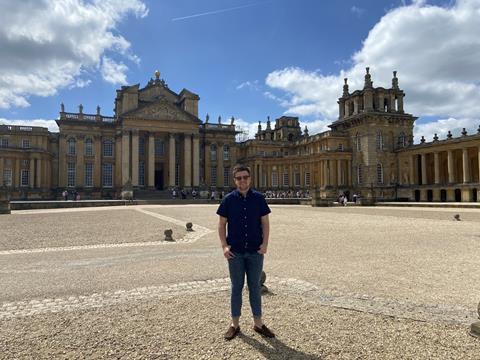 I can honestly say it was a feeling of real relief when I entered the gates at Blenheim Palace in Woodstock. I had been waiting a long time, like the rest of the world, for my chance to get back out there to experience something new, and what a way to kick things off - the first of many, I hope.
The palace itself is simply sensational, even before entering its grand interiors. It was a very sunny day so its sandy-coloured brickwork looked extra vibrant - I also found out that it cost just over £300,000 to complete the build back in 1722, imagine building a palace on the same budget nowadays! Although the main reason for my visit was to see the two new exhibitions on offer, I did make time to wander around the State Rooms. I highly recommend groups do the same on a visit - there are so many historic porcelain items, portraits, tapestries and other artefacts to see, as well as the room Sir Winston Churchill was born in.
Exploring the life of Churchill
You need to take your time when exploring the new Churchill exhibition, with every inch of space dedicated to his life and different artefacts once belonging to the former World War Two leader. It is expertly curated, taking you on a journey from his birth, right up until he became Prime Minister, showing his life through words and objects.
A school report from November 1883 on display suggests he had been very naughty but had made progress, and that he was good at history, plus one of his childhood sailor suits makes up part of the exhibition on his early life. This is followed by information on his teens and early adulthood, including a piece of shrapnel which he kept after it narrowly missed him and his cousin during World War One. They both supposedly kept a piece as a memento of their friendship and their escape.
A well-placed array of letters sweep the ceiling and one of the walkways to display the many exchanges between Winston and his future wife, Clementine, before walking into the section which covers his life in politics - be sure to look out for his slightly weathered red despatch box and a diamond encrusted cigar case from the people of the Belgian Congo. Also, take your time in the beautifully decorated Summer Terrace where you can find out more about his love of painting.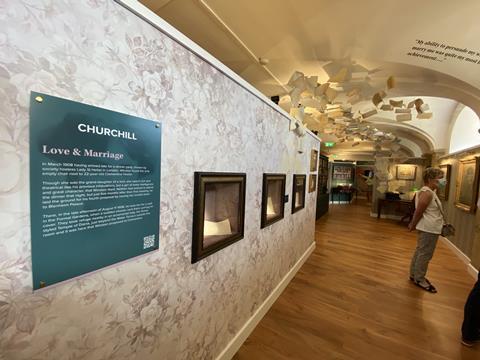 The final element of the exhibition is a scarily life-like model of the man himself by Jethro Crabb, offering a suitable photo opportunity to see how he would have looked as Prime Minister. By using tradition techniques, Jethro explained: "We were lucky enough to work with Winston Chuchill's original tailor to create a custom suit for the figure which was a really special part of the process. It took around three to four months finish the product, with things like his hair having to be individually inserted, and lots of research into past images to get it as realistic as possible."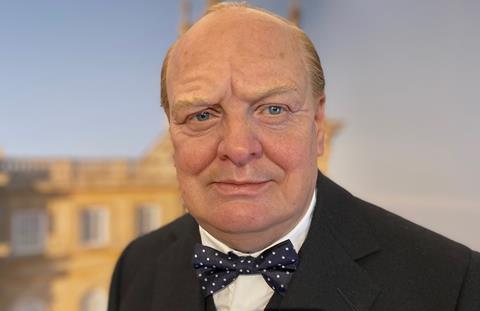 What else is there?
With a range of new spaces and features, The Stables Exhibition forms a great experience for those who wish to learn more about the horses and people associated with Blenheim over the years. The main highlight is the original Tack Room which has been opened and has been kept pretty much how it always has been. On display are some of the saddles which have been used by the Marlborough family over many years, going back to the 10th Duke and Duchess - the smell of old leather was overwhelming!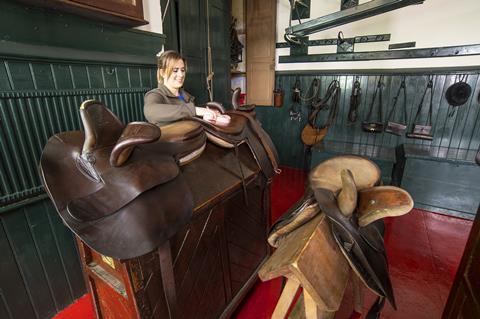 While walking through, I learned all about how the stables used to be decorated and also how they were run, by stepping into a recreation of the Stable Office. A life-size model of Churchill's childhood pony Rob Roy is on display as is a retro carriage which presents a great photo opportunity.
I had time to take a stroll within the beautiful grounds before tucking into one of Blenhiem's newest additions - The Churchill Afternoon Tea, which groups can book through the dedicated groups team. This is a fine addition to A visit for anyone wanting to indulge on a selection of tasty savoury items such as Swiss rarebit and smoked salmon and caviar muffins, followed by scones and delicious cakes.
The menu itself has been inspired by Georgina Landemare who was Churchill's personal cook for many years and it doesn't disappoint. I recommend the special Winston Churchill fruit cake washed down with the Vintage Imperial Pu Erh lead tea. All of this was served while overlooking the palace and the Duke's private Italian Garden.
Blenheim for groups
The palace is welcoming group bookings and the exhibitions are included in the admission price. The team has said that there have been quite a few groups already booked in so it seems organisers are being very optimistic about returning to the palace this year and prices have been held from 2020. If people have to cancel due to guideline changes then there are no penalties either. The dedicated group's team can help put together itineraries and open the palace early or late if need be for 45-minute, private guided tours.