Clare Dudley shares her experiences and thoughts about what luxury really means having returned from a recent cruise.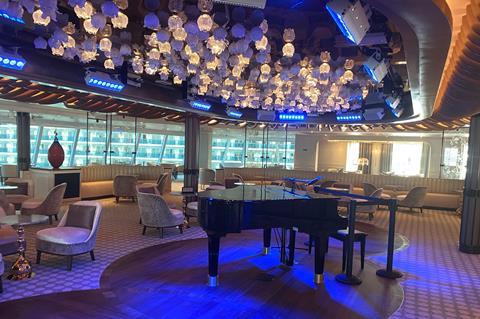 As a group leader, can you imagine how much easier life would be if your members had everything included, and that everything you had on your cruise or trip really was of the best quality; from the food, to the standard of the cabins, the restaurants and the staff? Knowing that your group would truly have the very best experience.
Following the pandemic, many of us have had trips cancelled, holiday plans changed and have resorted back to a simpler way of life, enjoying home comforts and our gardens more than ever. Many of you have taken holidays of all descriptions here in the UK, everything from camping to five-star hotels breaks in England's finest places.
This week I have been fortunate enough to travel again. I knew luxury would await as I accepted the invitation to sail with Regent Seven Seas onboard their brand new ship Seven Seas Splendour but had I truly understood how luxurious this brand is and how splendid every detail is on this type of holiday?
The decor on this rather magnificent ship tells a story. You instantly feel the elegance of the surroundings, the opulence of all the furnishings, the art, the ornaments and the lighting. I almost felt myself walk taller as I stepped on board. My smile surely must have said it all. I fell in love with all I saw and couldn't wait to see more.
We had a beautiful concierge cabin, which had its own lounge area, a rather large balcony with opulent and comfortable lounger with table and chairs, a ridiculously large walk-in wardrobe, and marble bathroom with a bath and a separate walk-in shower and 'his' and 'hers' sinks. There were so many drawers for more than ample storage.
Is this luxury?
Well, yes, but what makes the luxury luxurious? Is it the quality and feel of the towels, the brand of the toiletries, the quality and feel of the bedding? Or is it the water pressure in the shower and the size of the shower head?
Have you been to a nice hotel where all seemed very special but the towels were so thin, not particularly soft and would not fit round even the slimmest person?
Travelling with my husband, who is a builder, he looks for other elements in luxury. I am not joking when I say he taps walls and looks at joints and fixings. Within five minutes I know if something is not right as he shows me what is often shoddy workmanship, sometimes dangerous, and sometimes such a small but important detail that would make all the difference had things been done correctly. I don't think to this day I have ever been somewhere where he has not found fault!
Luxury – is it the staff, the way they are dressed and how they treat you? A smile and a greeting is worth millions and costs nothing. Is luxury the mouth-watering food you experienced or was there an abundance of choice? Even how the table is laid and what cutlery and dinner service is used can tell you all you need to know.
Is luxury about the shore excursion? The quality of the shore excursion, the choices you are offered in each destination? Or is it about the quality of the tour guide, the size of the group on the tour, the places you are visiting and how immersive the content is?
And what about the cost? Are more expensive holidays about luxury and are they worth it? If they have all the aforementioned components, not only are they worth every penny, they can end up representing incredible value for money. Sometimes they are even better value, and you truly don't have to worry about quality as this will be assured.
Am I now addicted to luxury? Yes, I am. I am not going to lie but this cruise snob just became more committed to help as many of my customers that can afford the finer things in life, such as cruises. And as a group leader myself I am going to encourage my clients to spend a little more before we leave for our trip, which ultimately I know will save them money on the whole trip as they wont be having to pay out left, right and centre once away!
Clare Dudley is managing director of Ponders Travel.